Your Client Success Team will work with you through each step of the launch process to successfully launch your account. Whether you are a new or returning organization, the typical timeline to launch an account is four to six weeks from the date your submission is reviewed and confirmed by your Client Success Team.
In this article:
---
Launch Checklist
Use the Launch Checklist below as a resource to guide you through the steps needed to be completed prior to your launch. We also encourage you to watch our Launch Process video on our Tutorial Video Library for more information on each of the steps.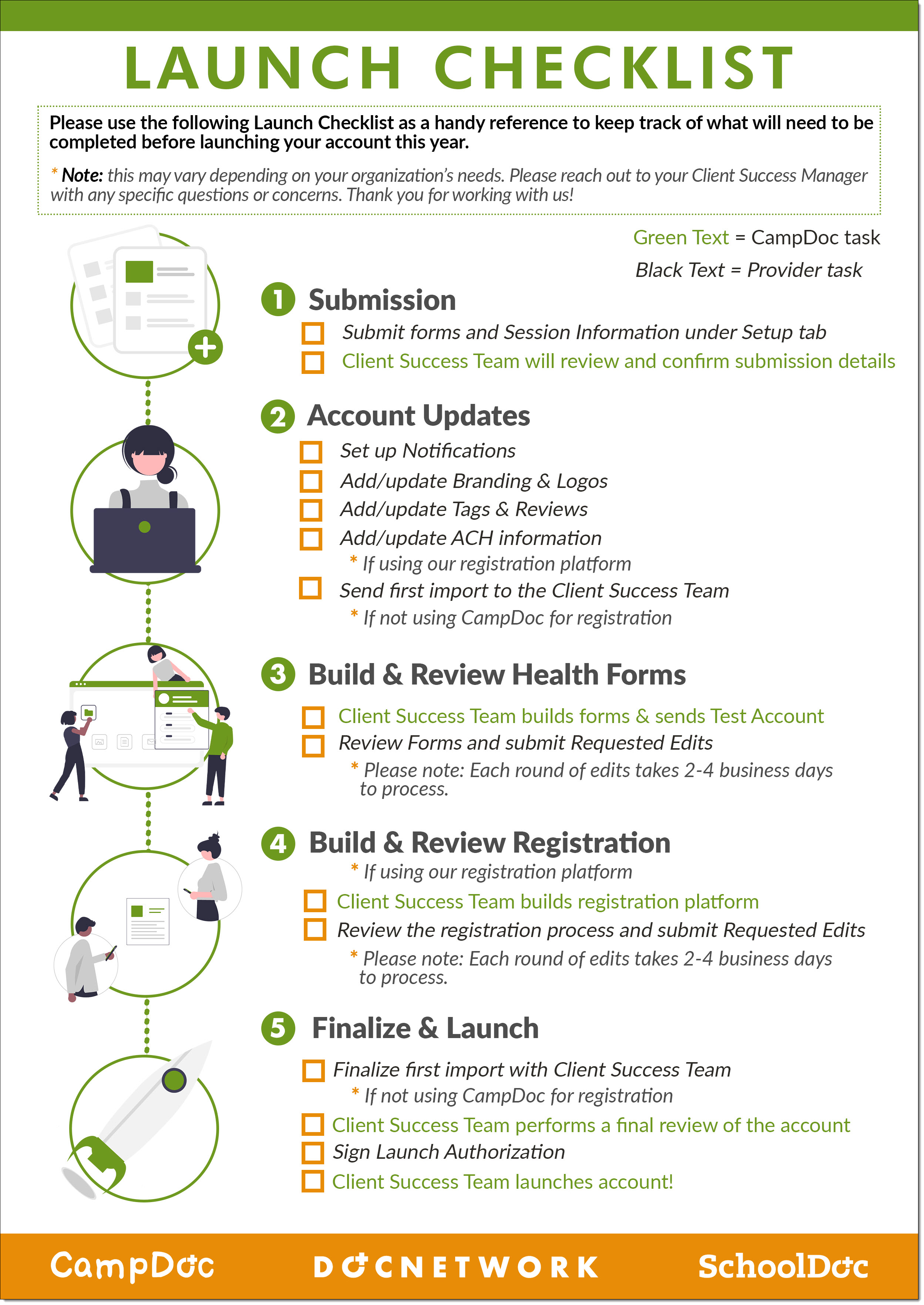 ---
Submission
Assuming your contract is current and up-to-date, you're ready to get started with the onboarding submission process. If not, that will be the very first step. If you're uncertain, reach out to your Client Success Team.
We encourage you to watch our Preparing for Submission Videos on our Tutorial Video Library for more in-depth information on this part of the launch process.
---
Account Updates
After you submit your information, your Client Success Team will review and confirm your submission details. In the meantime, you are able to access your account and begin making any updates, including setting up or adjusting branding, notifications, tags, and reviews. More customizable features can be found in the infographic below.
If using our registration feature, you can also set up ACH information during this step. If not using our registration feature, you can also utilize this time to prepare your first import and send it to your Client Success Team to review.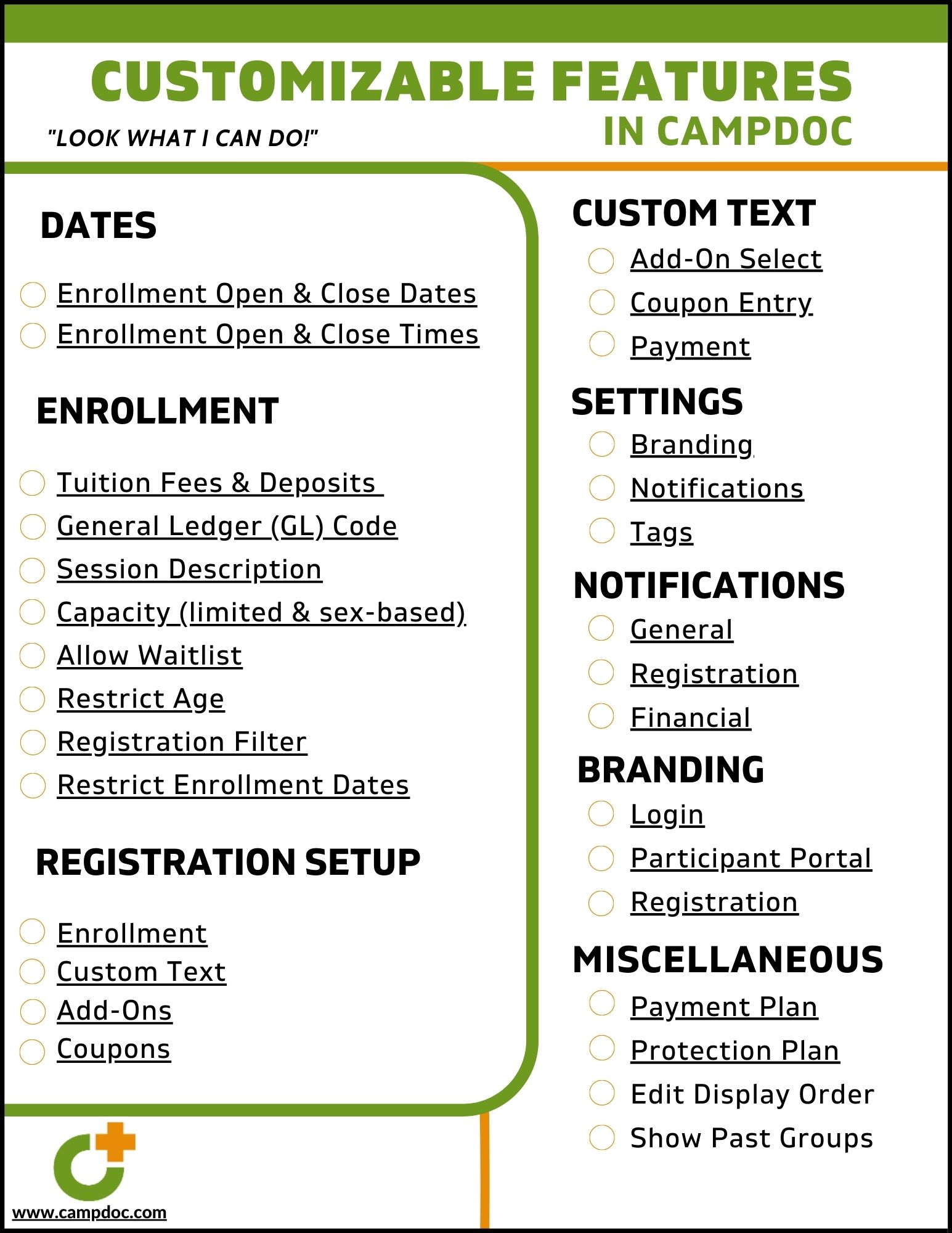 ---
Build & Review Health & Registration Forms
Once your Client Success Team reviews your submission, they will begin to build your health forms and, if applicable, registration platform into your account. When this is complete, your Client Success Team will send you a Test Account.
The purpose of this Test Account is so that you are able to log in and view the application from the participant's point of view, and verify that all the health forms are built into the account correctly. During this process, you are able to request edits on the forms to your Client Success Team. Please note that each round of edits takes approximately 2-4 business days to process. For more information on Test Accounts, check out the video below!
Test Accounts
During the review process, your Client Success Team may create multiple Test Profiles for you to approve your Health Profile and Registration (if applicable) setup. These test accounts will be an example of what the User will see when filling out the Health Profile for a participant.
A few things to note about registration test accounts:
The login is unique in that it will allow you to make payment through the system without being charged.

During registration, the test account has the ability to bypass dates. So although the session may be closed to your participants the session will appear as registrable for the test account.
Different Profiles based on Participant Type
You may have multiple different profiles to review if you have multiple versions of your health profile forms. Your Client Success Team will name each profile based on your participant type. Please review the Health Profile Overview and Health Profile Permissions to see how your account will be set up.

Edit Requests
After reviewing your Health Profile you will have the opportunity to submit requested edits to your Implementation Specialist. You should allow at least 2-4 business days to complete your edit requests unless a rush fee is paid.
To stay organized and make edits efficient, please stick to our Review Protocol:
Please be as thorough as possible when compiling your feedback, as additional rounds of edits may extend the launch timeline.

Submit all edit requests in writing (typed) within the review document. We are not able to accept handwritten or verbal requests.

Indicate which test profile you are requesting changes for and in which section/page the question appears.

Clearly identify the action you would like taken on the current question:

Add - Remove any questions from the Health Profile completely
Remove - Reword any questions to be more clear
Reword - Add additional questions to the Health Profile

You may have multiple people from your team review the Health Profile using the same test account credentials. We ask that all requested edits be returned in one, consolidated document.

We highly recommend filling out at least one of the test profiles to 100% complete so that you can review any conditional/follow up questions.

It is best to make any necessary updates to your Health Profile forms before the account is launched. Any changes made post-launch could affect the experience of your participants, so we advise you to make all changes during the review process.
Our goal is to get your Health Profile exactly how you'd like it as quickly as possible, so please do your best to make your requests clear. All requests must be typed out, we cannot accept edit requests over the phone or handwritten.
Module Edits
You may see a few different modules on your account: Allergies Module, Medication Module, OTC Module, and Immunizations Module. These modules have very little room for customization because they inform other parts of the application.
The Allergies Module informs the medical box next to a participant's name. Any allergy indicated by the participant in the module will be listed in the medical box. If the participant indicates they are at risk for anaphylaxis, the medical box will turn red. This medical box also displays in the Health Log and eMAR.
The Medication Module also informs the medical box next to the participant's name, as well as the eMAR

. Medications entered into the Medication Module will appear in the eMAR with the correct dosage and dose form, among other notes about the medications. Your Client Success Team can customize this module by including medication administration timeframes, based off of a set of options. You are also able to choose whether to include the auto-generated Medication Confirmation form.

The OTC Module displays a customizable list of OTCs based on availability in your organization's health center. OTCs approved by the user in this Module will appear in the Health Log

.

The Immunizations Module displays a list of self-reported immunizations for each profile. Your organization has three options to choose from in terms of the type of immunization information you will accept from participants:

Manual Entry ONLY

Manual Entry AND Scan and Upload

Scan and Upload ONLY
Note: If you choose Manual Entry ONLY, your Client Success Team can customize the list and dosage of the vaccines listed.
Our modules connect to other parts of the application, and also allow you to easily pull reports on the data collected without having to filter for specifics. For example, you might want to pull a Food Allergy or Medication Summary Report. You can find more information in Standard Reports.
---
Finalize & Launch
During this last step, your Client Success Team will perform one final review of your account. If not using our online registration feature, your Client Success Team will work with you to finalize your first participant import. Once the final review is completed, you will sign the Launch Authorization via email and your Client Success Team will launch your account.