The health log allows you to chart illnesses and injuries for participants. 



In this article:
---
New Health Log Entry
To create a new health log entry, click on New from the Health Log tab. Enter the name of the participant from the drop-down menu.
All required fields are highlighted in red. You can add additional fields by selecting from the Vitals or Physical Exam sections. You may also add a Follow-Up reminder, Nursing Diagnosis, Medical Diagnosis, or Attach a Document.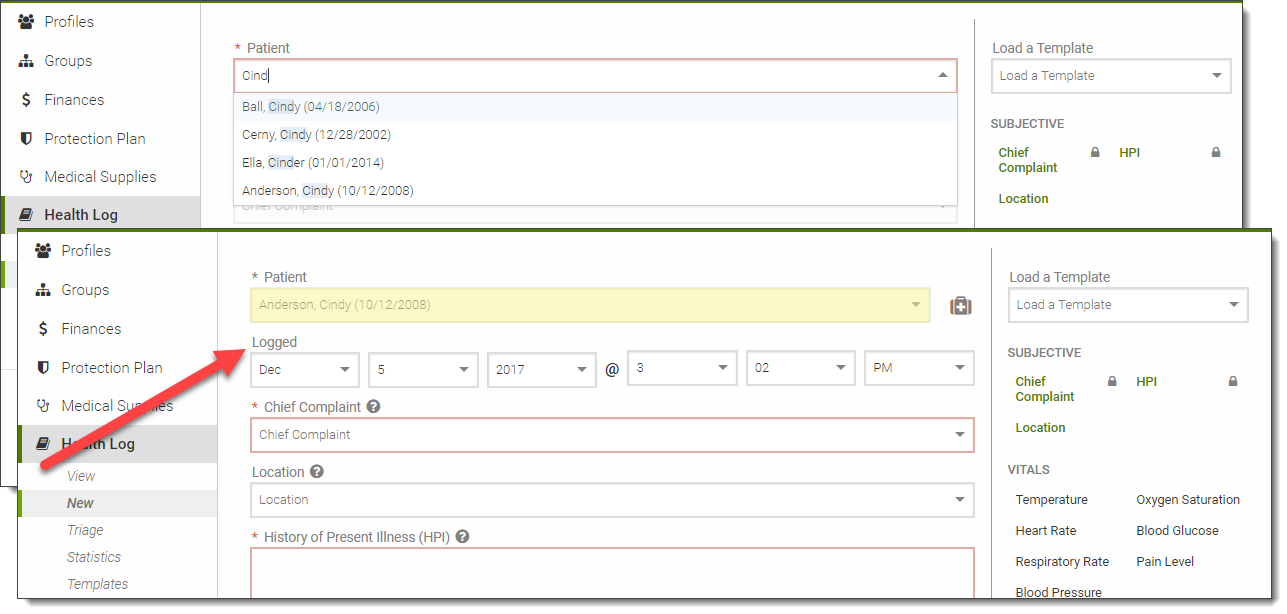 Drafts will automatically save, and you can come back to make edits at any point in time. You can click the Delete Draft button to delete an entry made in error. Once an entry is submitted, it can no longer be edited or deleted.
Finally, you may choose to notify the family, by selecting the Notify Authorized Users checkbox next to the Submit buttons. This will send an email with a summary of the visit. By default, families are not able to see and are not notified of any entries you make.


 Why does the health log say "patient has no active registrations"?
You can only add entries when participants are present at your organization. For example, if Sara is attending from June 15th to June 30th, you cannot add an entry outside of this time-frame. If you try to add an entry for June 5th, you will see an error patient has no active registrations at the time selected above. When adding a health log entry, it defaults to the current date and time. If you are adding an entry late, you will need to change the date to a time when they were actually evaluated.
 Will I be alerted if I set a follow-up reminder in the health log?
Yes, if you set a follow-up for a participant when you create a health log entry, it will appear as an alert in the News Feed.

 How do I add custom locations and dispositions for the health log?
You can add or remove health log dispositions by going to the Health Log tab in Settings.
 Can I create a health log entry if I don't have internet access?
For organizations that may need to administer care in areas that do not have internet access, we recommend using our health log template to record the entry. Just click the Download Blank Template button. Once you're back at a location with internet access, you can add these entries to the health log.
---
Health Log Drafts
Health log entries will automatically save as you type, and a draft is an entry that has been started, but not yet submitted. 
All drafts appear in red, and only the provider who initially created the health log entry will be able to delete or edit that draft by clicking the   icon.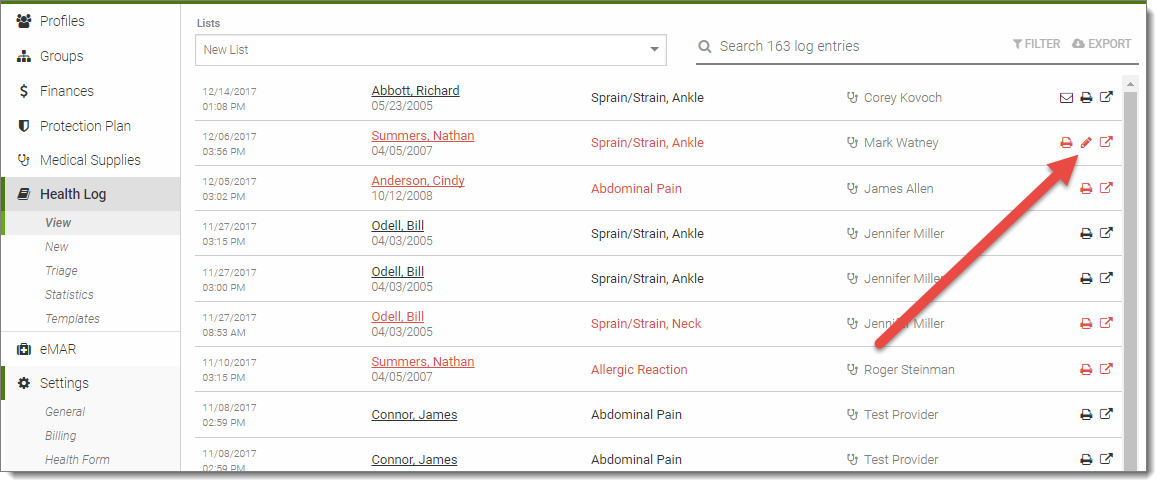 ---
Addendums and Linked Visits
Once the log has been submitted, the entry becomes a permanent part of the medical record, and you cannot make changes to that entry. All required fields must be completed to submit an entry.
If you've made an error or need to make a change to a health log entry after you've already submitted it, you will need to add an addendum. To add an Addendum, search for the record on the View page and click on the   icon. Add new information, upload documents, change the disposition status, and click the Save button.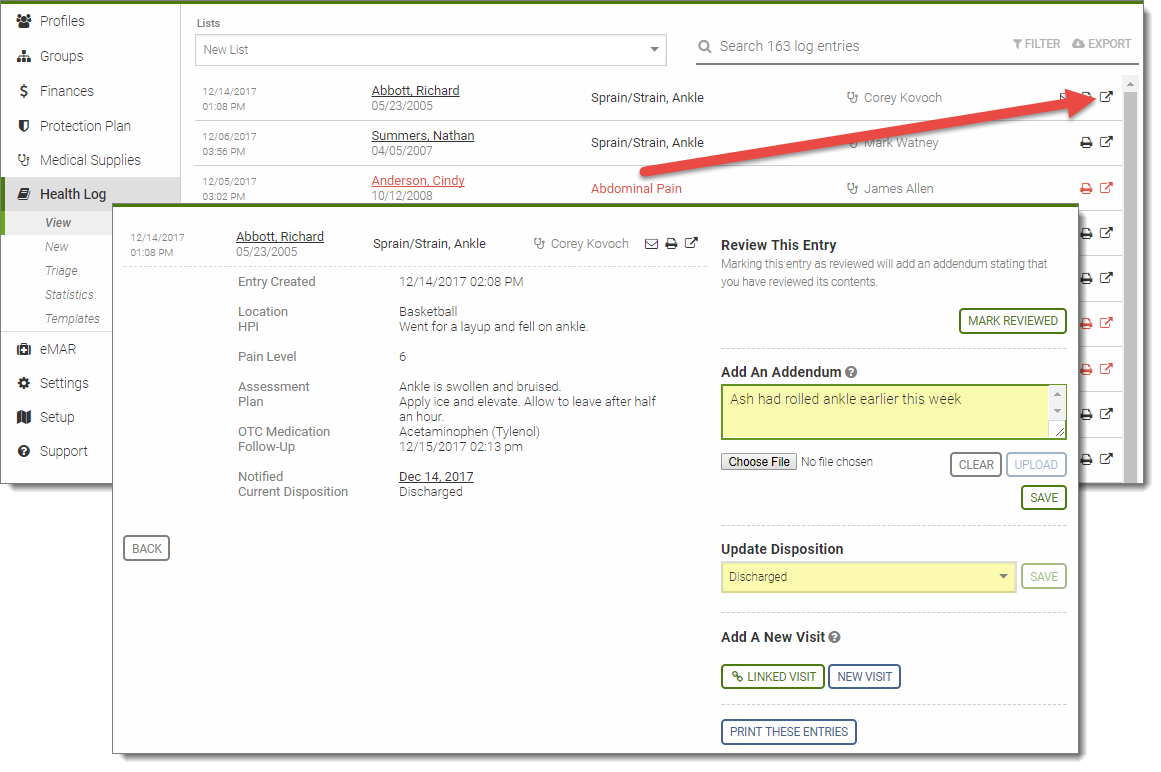 Linked visits in the health log allow you to track repeat visits for the same chief complaint or as part of the follow-up visit. To create a Linked Visit, search for the record on the View page and click on the   icon. Click on the Linked Visit button. When viewing entries, linked visits will be marked with a   icon.
---
Review Entries
Some organization have an onsite or offsite doctor or other medical provider review their health log at the end of every day or every week. If your medical provider has a provider account, they can review health log entries electronically.
From the View section of the Health Log, providers can quickly review entries by clicking the Mark Reviewed button. If they want to view additional details for the record, including addendum and attachments, they can click on the   icon and review the entry from there. When an entry is reviewed, it will record the provider's name and date/time the review was completed.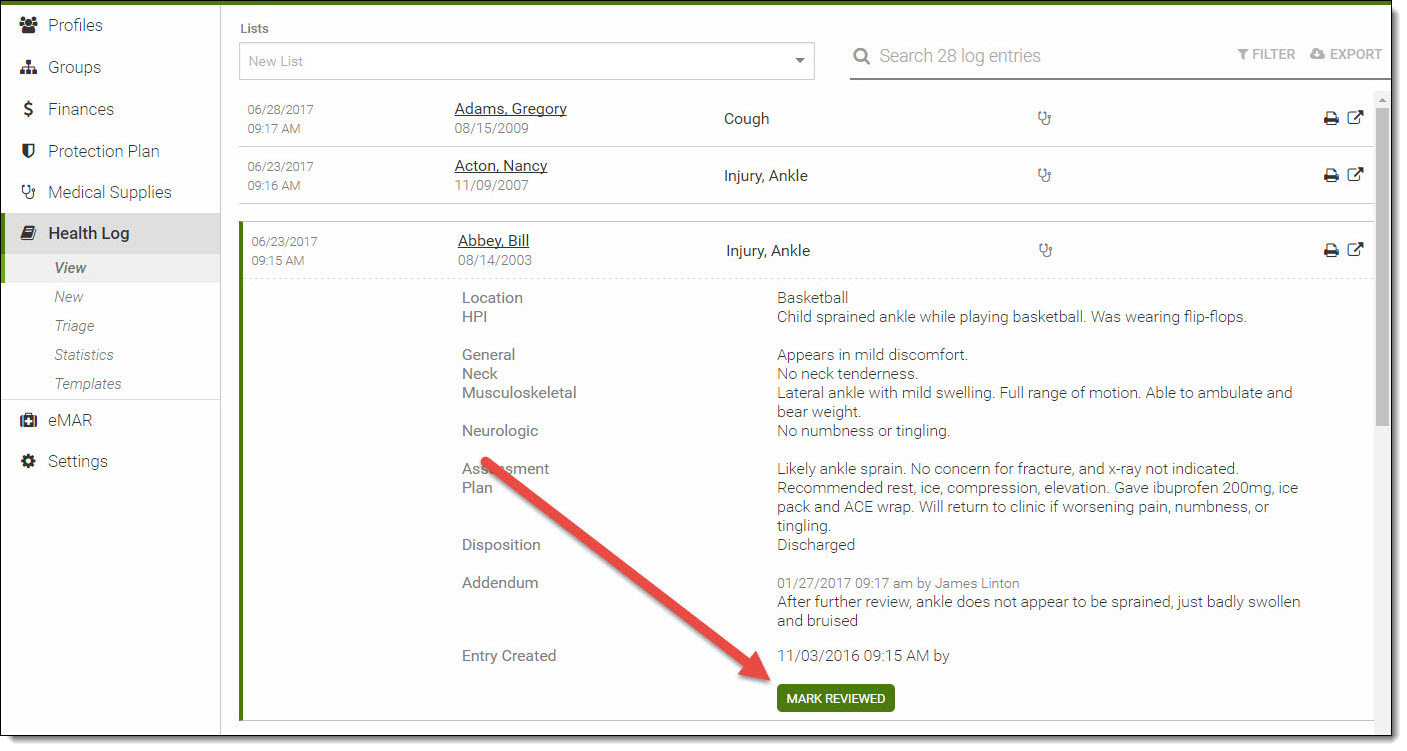 ---
Filters and Reports
If you want to search for a subset of health log entries, you can filter your results by many conditions, including date, chief complaint, location, and provider.
Just click on the  Filter link at the top of the View page, and add as many filters as you need to narrow down your search. 
You can save frequently used lists and reload them later on.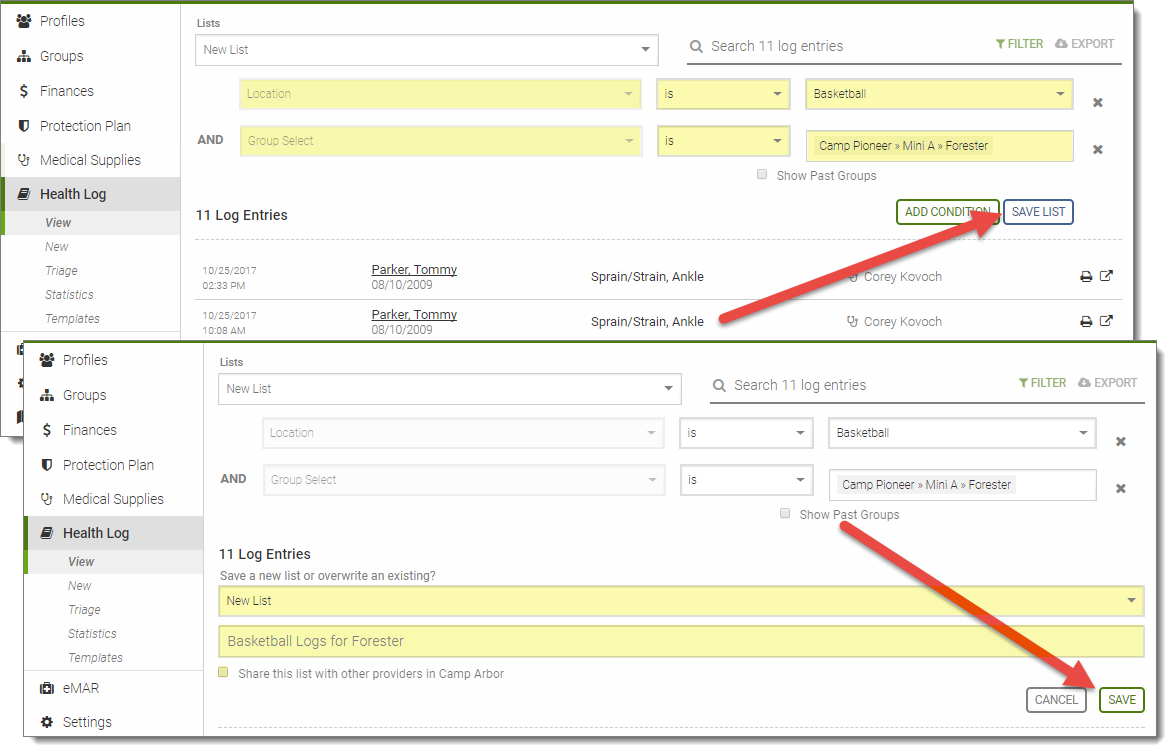 Saved lists will appear under the Lists drop-down.

You can download or print various health log reports in CSV and PDF formats. Just click on the   Export link at the top of the View page. All health log reports will reflect the filters you set.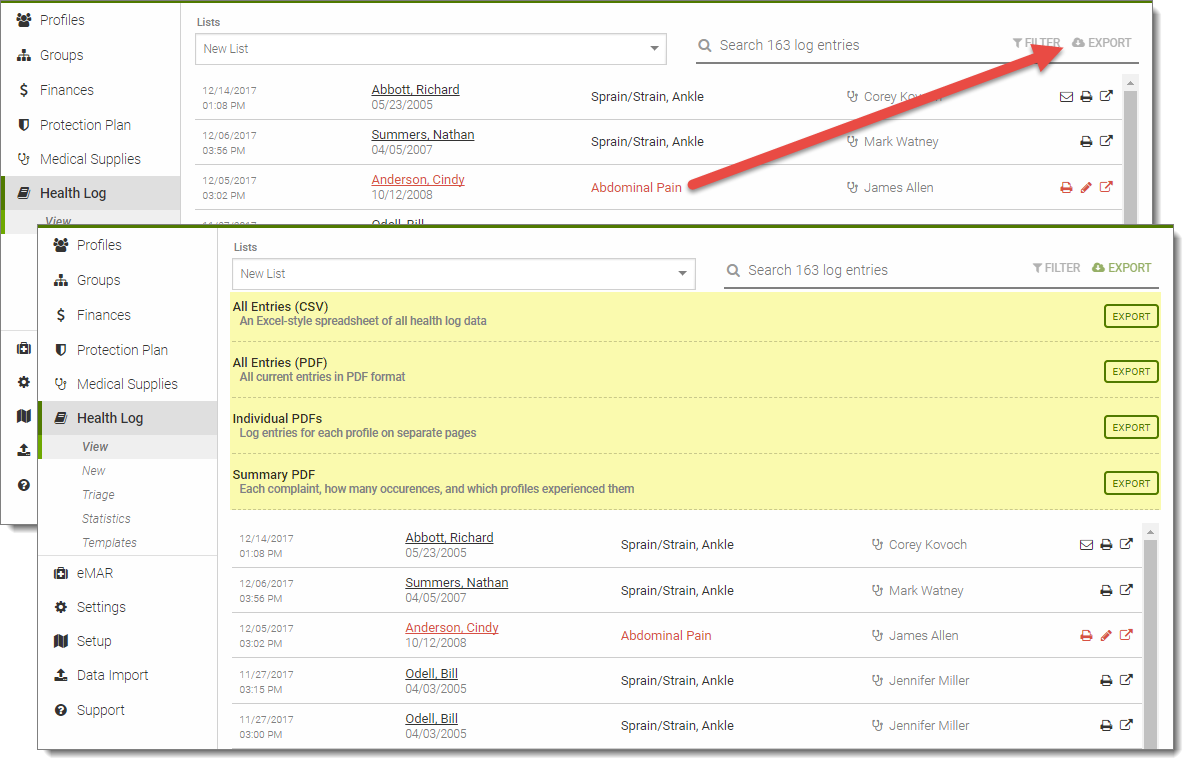 ---
Health Log Templates
We know that check-in and clinic visits can be very busy with repetitive tasks. Is your physical exam, assessment, and plan the same for all participants who come in with a cough and runny nose? You can create templates with default values for any field. Save the template as "Upper Respiratory Infection", and then quickly load it up for any future campers that come in with the same issues.
To create a template, click on Templates and enter the chief complaint and any other fields you'd like to pre-populate. Name your template and chose to share it with other providers in your organization before saving.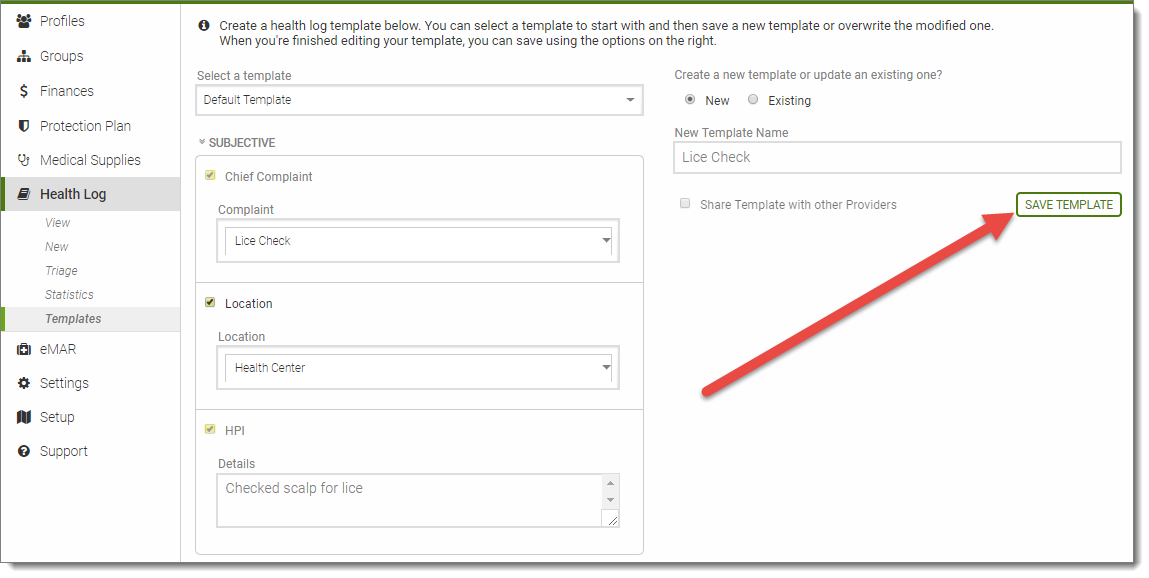 You can load saved templates when creating a new entry by clicking on the Load a Template drop-down menu.

---
Triage Mode
A laptop or tablet with internet access may be placed in your clinic for participants to check-in and provide basic details for their visit. Under Triage in the Health Log, click the Enter Check-In Mode button.

The participant will enter their name and chief complaint. Once they have checked-in, they will appear in your Triage List and you will be able to prioritize which chief complaints should be seen and clicking on their name.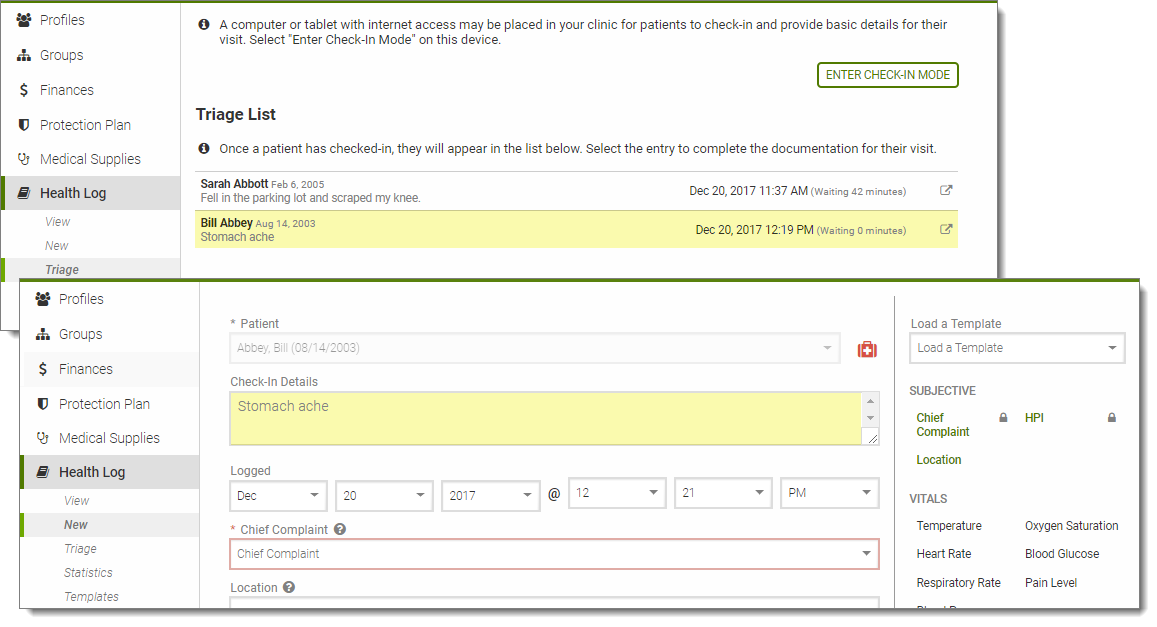 ---
Statistics
Graphical details of your health log are available in the Statistics section. You can filter by dates at the top of the page, and view statistics for visits per day, chief complaints, top providers, top locations, dispositions, and boys/girls.
If you're an Excel wizard, you can also filter and export raw health log data to create your your own graphs and stats.