In this article:
---
Standard Reports
We provide a number of frequently used Standard Reports. When a report is selected, a description of the report and the included data will be displayed.
Most Common Reports
Completion Status. Used to view a list of complete or incomplete profiles.


Check-In Report. Used for families to sign-in and sign-out their participants each day, or to track attendance for your organization.


Medication Administration Records (MARs). Used to chart when medications are administered. While we offer an eMAR (Electronic Medication Administration Record), some organizations may need to chart by hand.


Duplicates. Used to quickly view a list of duplicate profiles. You'll first need to clear all of your filters on the list builder by removing each condition.


Bounced Emails. Used to quickly view a list of profiles with bounced email addresses.
---
Custom Reports
With Custom Reports you are able to download specific steps or questions of the health profile. Select the checkbox of the specific questions or steps to be included in your report.
If you would like to include all the steps or all the questions within a step you can choose Select All for either and this will automatically include all this information.
You can download the report as a CSV spreadsheet or as a PDF. If downloading as a PDF, you can choose to include Images from the Show Advanced Options menu.
When you're ready to download the report, click the Create button.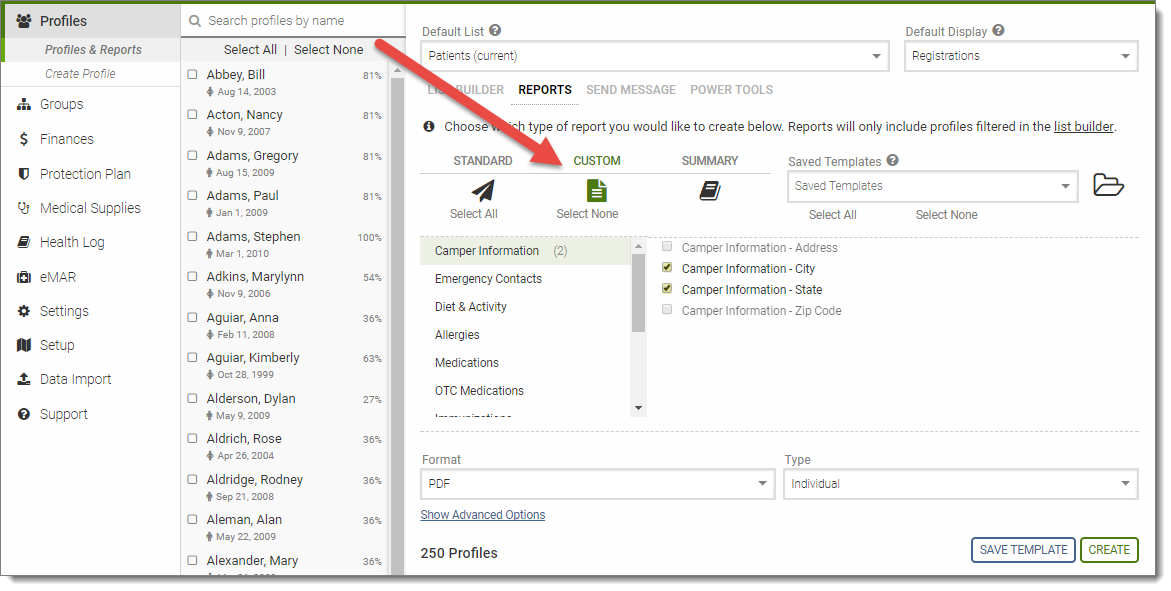 ---
Summary Reports
With Summary Reports you are able to download lists of participants who answered yes or no to a specific question.
Select the questions you want to include, and choose whether you want include Yes Answers, No Answers, or All Answers in your report. Lastly, choose whether you would like to include details to questions, then click the Create button.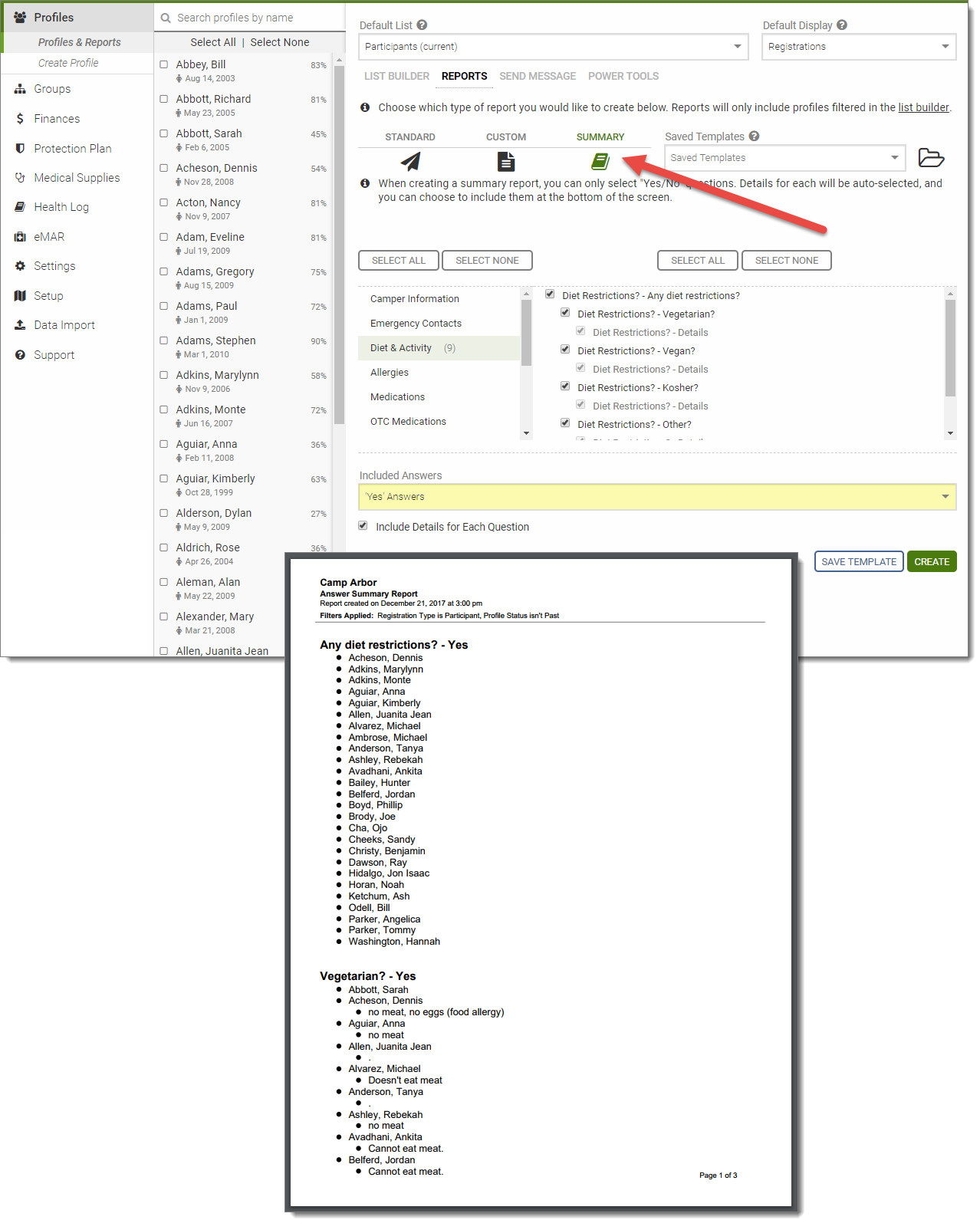 ---
Save and Share Reports
If there is a report that you use frequently, the report can be saved for frequent access.
Create the report and click the Save Template button. Choose to create a new template or overwrite an existing template, enter a name for the report, and choose whether or not you want to share the report with other providers in your organization.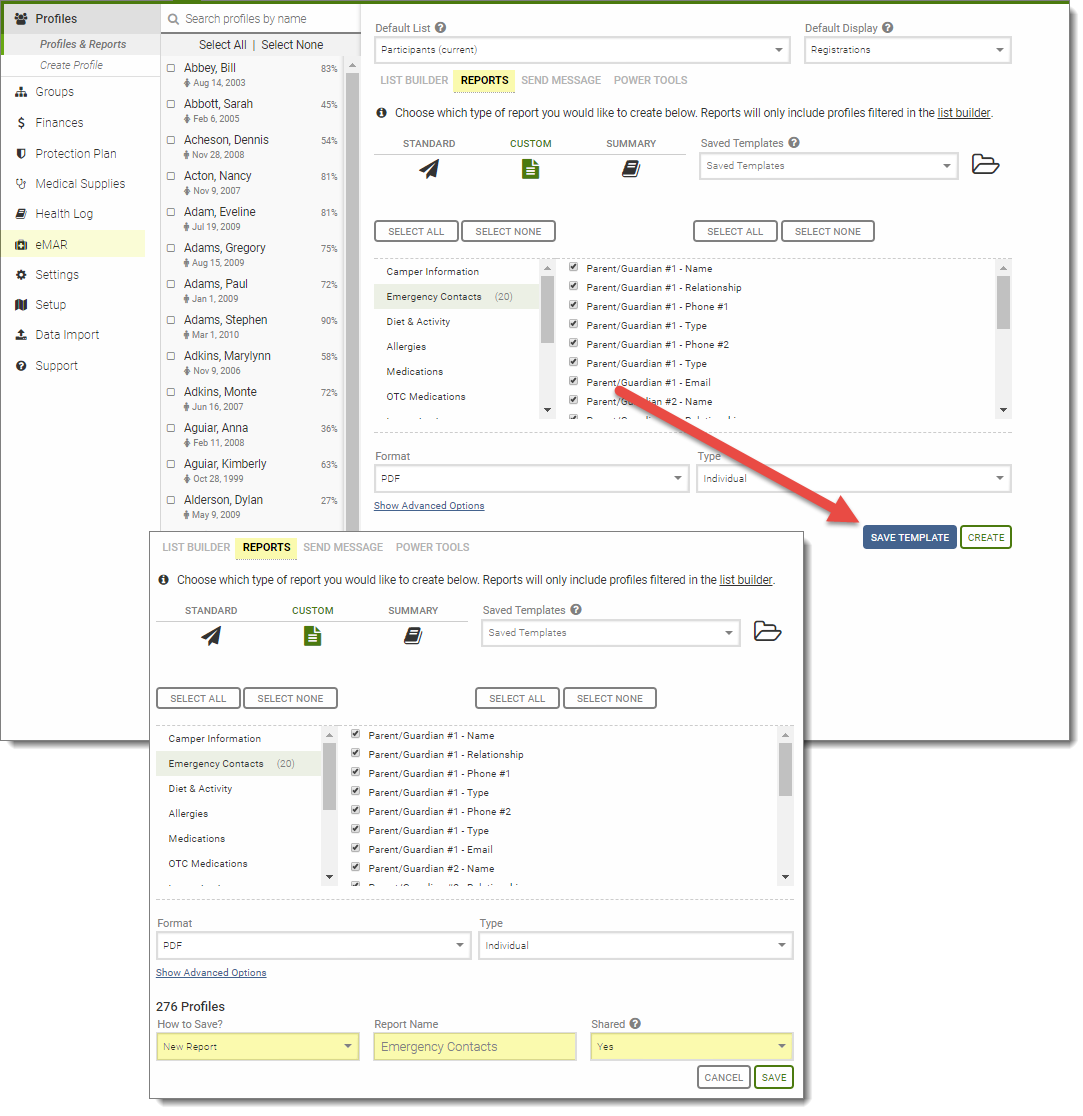 Saved and shared reports will appear under the Saved Templates drop-down menu.