In this article:
---
Launch Process
Use the Launch Process Guide below as a reference for each step that needs to be completed prior to your launch.
---
Returning Organizations
To re-register for a new season:
Log in to your Provider Portal.
In the left column, in the Menu, click Setup.
Review and update all contact information, and then click the CONTINUE button.
Click the CONTINUE SETUP button to provide details about your upcoming season. You'll need to:

Name your submission.
Complete all fields highlighted in red, including the number of participants, important dates, and whether you plan to use our Online Registration feature.
Note: If your organization runs year-round, in the Important Dates section, indicate the first and last day of your fiscal year.
Upload your group structure with all of your session/program information.
Upload any new forms and questions that are not already included in your account.
Note: If there are no new forms or questions to submit, then you can leave this section blank.
Indicate when you want to launch your account and give your participants access to CampDoc or SchoolDoc.
Complete all other required fields.

Click the green SUBMIT FOR REVIEW button.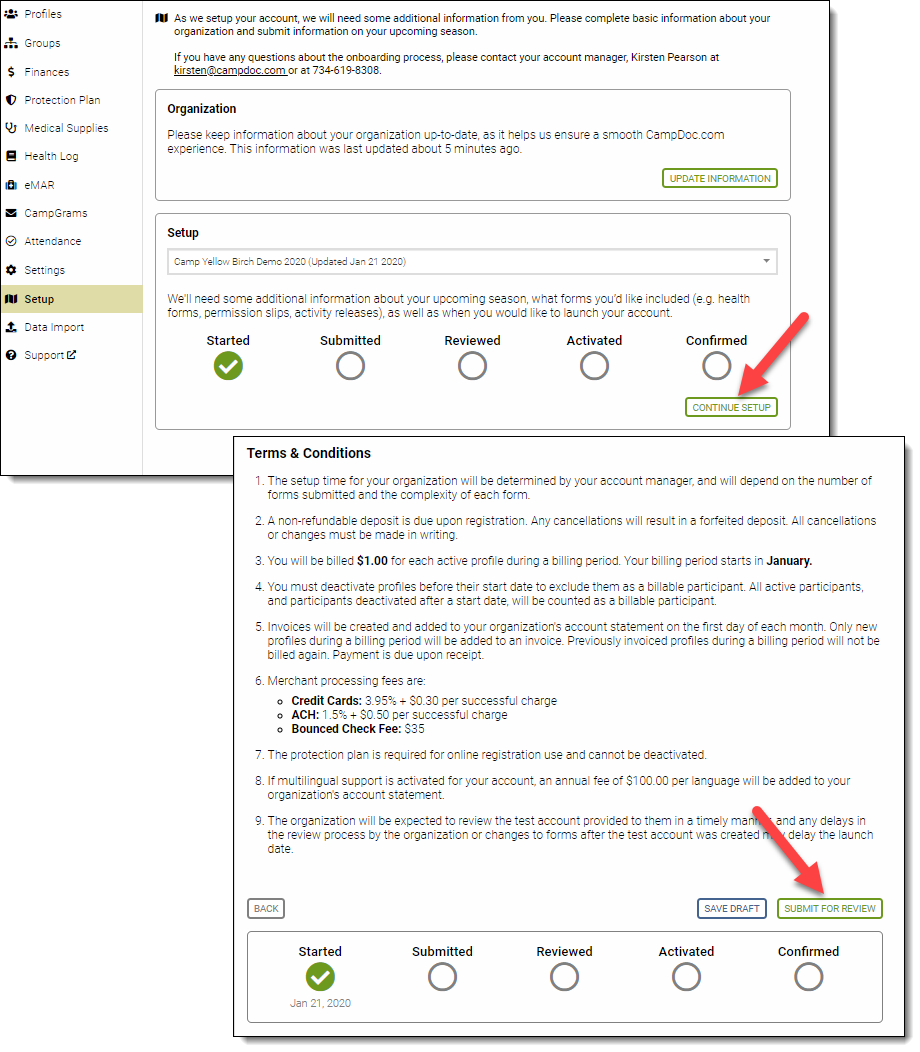 After you submit your information, you will receive an automated email, and your account manager will review your information. If there are no outstanding issues, your account manager will mark the submission as Reviewed on the Setup page. You will then receive an email letting you know when it is time to pay your deposit.
To pay your deposit:
Log in to your Provider Portal to pay your deposit via credit card or e-check, or indicate that you want to pay via paper check.
In the left column, in the Menu, click Setup.
Check the boxes to confirm you read each of the conditions on the Pay Deposit page.
Click the SUBMIT ($) DEPOSIT button.
Important: After we receive your deposit, your account manager will set up a Test Account for you to review and request any necessary changes.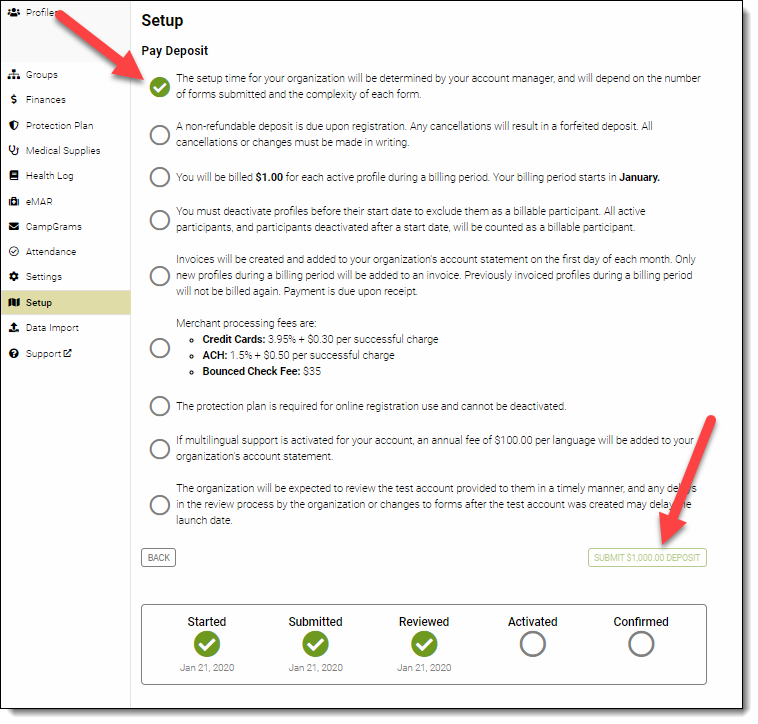 ---
Account Setup Checklist
Meet with your directors, administrative staff, and health staff to review your health forms, permission slips, authorizations, and activity releases. As a group, decide which forms you want us to include in your account.
Forms
What forms do you want to include in your account? You can use our standard health form, or you can send us PDF copies of your current forms. Do any of your programs have extra questions, authorizations, or waivers that need to be included in your account?
Staff
Will you be collecting staff health forms too? If so, is their form the same as the participant health form or different?
Medications
Do you require a doctor's signature for all medications administered? Should your families bring the medication confirmation form on the first day, or should they upload it to their participant's account?
OTC Medications
Do you require a parent/guardian and/or doctor's signature for over-the-counter medications administered at your organization (e.g., ibuprofen, acetaminophen, etc.)?
Immunizations
What immunizations do you require (e.g., tetanus, meningitis, etc.)? Are some immunizations optional? Should families scan/upload their participant's immunization form, self-report, or do both!
Due Date
What date do you want your families to complete their health forms? Select a date early enough that your health staff has enough time to review records before the first day. This date can be the same for everyone or can vary by session.
Lockout Date
What is the last day you want families to be able to make changes to their account? Only 100% completed accounts are ever locked out. If the lockout date has passed, but the family has not completed their health forms, they will still be able to access their account. Most organizations select a lockout date between one (1) and five (5) days before the start of each session.
Branding
Do you want to include a custom logo or photo to personalize your organization's account?
Instructions
Are there additional instructions that you want to add to Welcome/Reminder email notifications or in other areas of your account?
---
Test Account Checklist
It is important that your entire team complete a thorough review of your Test Account in order to make sure everything is included and displayed correctly. If you want your account manager to make any changes, let them know. We want to make sure your account is perfect. Keep in mind that we advise against making changes mid-stream. After we launch your account, changes to questions and forms can require your participants to do extra work.
Questions
Are there any important questions in the health forms that you forgot to ask? Any questions that you want to remove?
Order
Review the order of steps in your health forms as well as how the questions are grouped together. Many of the reports you create will be determined by the order and organization of the questions in your account.
Required vs Optional
Are all essential questions marked as required? For example, you may want to require two emergency contact phone numbers.
Authorizations
Should authorizations be required, or should a parent/guardian be able to decline an authorization? For example, maybe your Permission to Treat authorization should be required, but your Horseback Riding Waiver should be optional.
Organization Contact
Is the General Contact name, email address, and phone number for your organization correct? We always contact information for an organization so families with camp-specific or school-specific questions know where to find the answers. These include questions like: Where is the dropoff location? Do you have a packing list? Do you have scholarships?
Dates
Are the due date and lockout dates displayed correctly?
Branding
Is your custom logo or photo displayed correctly?
Instructions
Are there any changes that you want to make to any custom instructions you requested?
Pre-Populating
If you used our software last summer, what questions and forms do you want to pre-populate with past answers from your participants? Most of our organizations carry over everything except authorizations, waivers, and forms requiring a doctor's signature.