In this article:
---
Launch Process
Use the Launch Process Guide below as a reference for each step that needs to be completed prior to your launch.
---
Returning Organizations
To re-onboard for a new season:
Log in to your Provider Portal.
In the left column, in the Menu, click Setup.
Review and update all contact information, and then click the CONTINUE button.
Click the CONTINUE SETUP button to provide details about your upcoming season. You'll need to:

Name your submission.
Complete all fields highlighted in red, including the number of participants, important dates, and whether you plan to use our Online Registration feature.
Note: If your organization runs year-round, in the Important Dates section, indicate the first and last day of your fiscal year.
Upload your group structure with all of your session/program information.
Upload any new forms and questions that are not already included in your account.
Note: If there are no new forms or questions to submit, then you can leave this section blank.
Indicate when you want to launch your account and give your participants access to CampDoc or SchoolDoc.
Complete all other required fields.

Click the green SUBMIT FOR REVIEW button.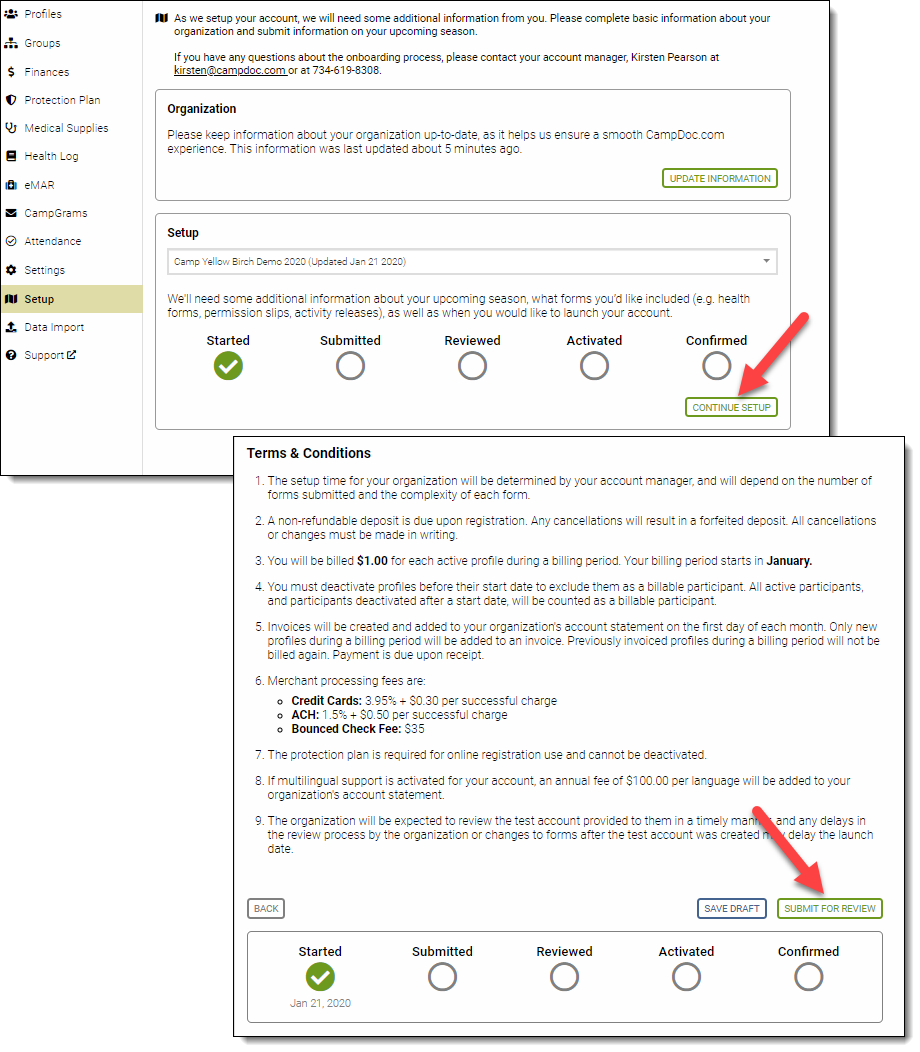 After you submit your information, you will receive an automated email, and your account manager will review your information. If there are no outstanding issues, your account manager will mark the submission as Reviewed on the Setup page. You will then receive an email letting you know when it is time to pay your deposit.
NOTE: If you are on a monthly billing contract with DocNetwork your organization does not have a deposit and your onboarding is complete after you submit your forms for review. Your Client Success Manager will be in touch with any outstanding questions and/or next steps.
To pay your deposit:
Log in to your Provider Portal to pay your deposit via credit card or e-check, or indicate that you want to pay via paper check.
In the left column, in the Menu, click Setup.
Check the boxes to confirm you read each of the conditions on the Pay Deposit page.
Click the SUBMIT ($) DEPOSIT button.
Important: After we receive your deposit, your account manager will set up a Test Account for you to review and request any necessary changes.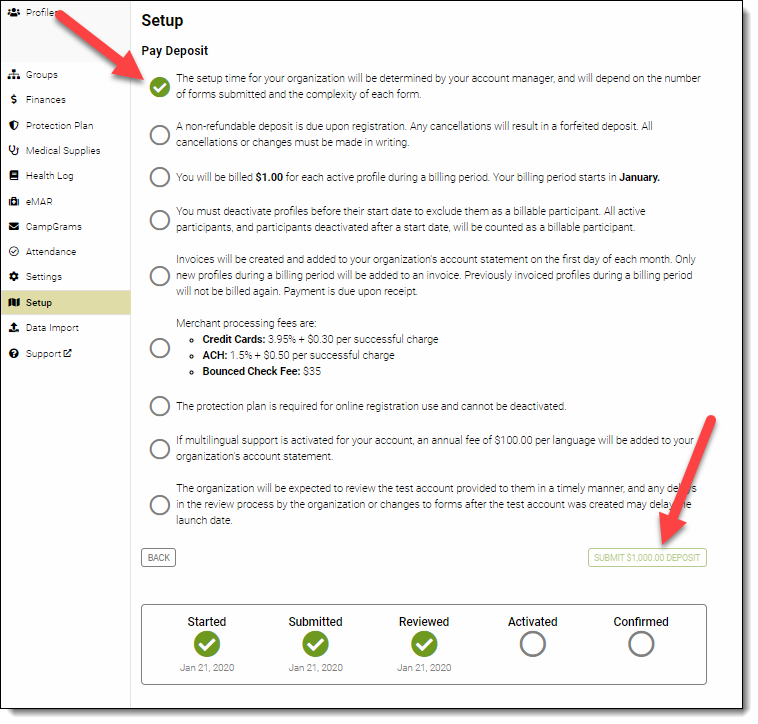 ---
EHR Only vs Registrations
While working with DocNetwork, you may come across documentation that refers to EHR (Electronic Health Record) Only or Registration.
EHR Only organizations collect registrations for their sessions using an external system. An EHR Only organization will import participants into the system through a spreadsheet. You can find more information about Participant Imports.
Registration organizations use the Registration Module (at no additional cost) to have their participants sign up for their session(s). Participants will go to the organization's unique link that we provide to sign up for the session(s) they would like to attend.
During the registration process, the User will input:
User Name

User Address

User Phone Number

Participant Name

Participant Date of Birth

Participant Sex

Participant Session Information
---
User vs Profile
A User of an account is the person who manages the profile(s) that are registered under the account. The User will sign up using their email address and will be the person who receives communication sent from DocNetwork. A typical example of a user is a parent or guardian.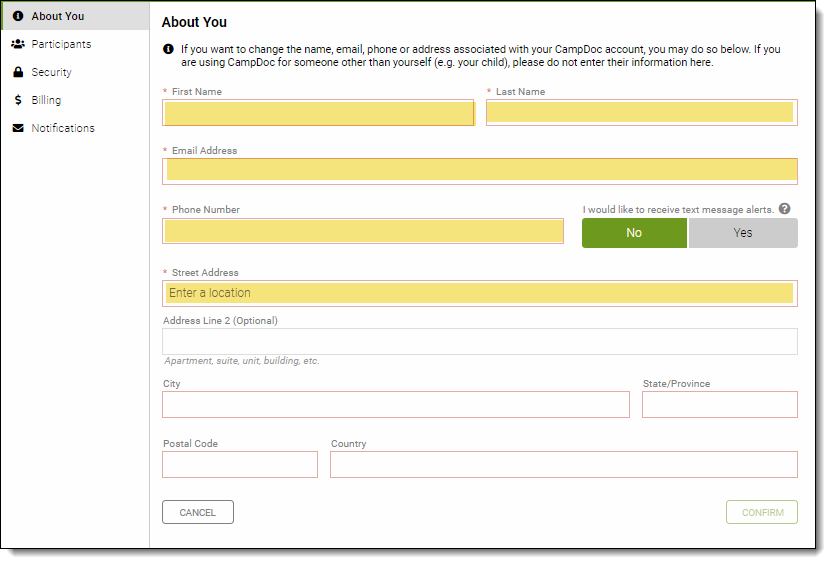 A Profile is created for the participant attending the session, this is the individual that we are collecting health information for. There may be multiple profiles that are managed by a single user.

Please note: in some situations the User and the Profile may be the same person (ie. staff, volunteer, adult camps, family camps, etc.).
---
Participant Profile Types
Your organization may have multiple types of participant profiles attending sessions. Different types might include ranges from age groups (childcare, elementary, high school, etc.) or the type of participant they are at your organization (staff, camper/student, volunteer, etc.).

Different participant types can see all of the same questions, or they may see different questions. We use the different types of participants identified in your Group Structure to correctly permission forms that match their group.
---
Health Profile Overview
The Health Profile is where the requested participant information is collected. In the Health Profile, participants will complete the required questions determined by your organization and can upload files as needed.
The Health Profile and Session Information work together to display the appropriate questions dependent on the session(s) selected. Depending on the participant registration, we are able to display different questions to different participant types.
The forms in your account are based directly on what was submitted by your organization during the onboarding process. Forms submitted at a later date could result in a delay in your launch.
Your account will be a compilation of all of your forms submitted. If your organization is collecting information on multiple participant types (Camper, Staff, Volunteer) your account will have permissioned forms to make sure each participant sees the correct forms and questions. There may be some questions that are shared between the different participant types if they are the same question.
---
Health Profile Permissions
Questions, Forms, and Steps can be set and 'visible' to various participant types. This means that all of your forms can be shared between different groups of your participants. By utilizing your participant types, we can display and hide most sections of your health forms.
---
Health Profile & Registration Review

Test Accounts
During the review process, your Accounts Team will create multiple Test Accounts for you to approve your Health Profile and Registration (if applicable) setup. These test accounts will be an example of what the User will see when filling out the Health Profile for a participant.
A few things to note about registration test accounts:
The login is unique in that it will allow you to make payment through the system without being charged.

During registration, the test account has the ability to bypass dates. So although the session may be closed to your participants the session will appear as registrable for the test account.
Different Profiles based on Participant type
You may have multiple different profiles to review if you have multiple participant types. Your Accounts Team will name each profile based on your participant type. Please review the Overview of the Health Profile and Health Profile Permissions to see how your account will be set up.

Module Edits
You may see a few different modules on your account: Allergies Module, Medication Module, OTC Module, and Immunizations Module. These modules have very little room for customization because they inform other parts of the application.
The Allergies Module informs the medical box next to a participant's name. Any allergy indicated by the participant in the module will be listed in the medical box. If the participant indicates they are at risk for anaphylaxis, the medical box will turn red. This medical box also displays in the Health Log and eMAR.
The Medication Module also informs the medical box next to the participant's name, as well as the eMAR. Medications entered into the Medication Module will appear in the eMAR with the correct dosage and dose form, among other notes about the medications. OTCs approved by the user in the OTC Module will appear in the Health Log.
Our modules don't only connect to other parts of the application, they also allow you to easily pull reports on the data collected without having to filter for specifics. For example, you might want to pull a Food Allergy or Medication Summary Report. You can find more information in Standard Reports.
Edit Requests
After reviewing your Health Profile you will have the opportunity to submit requested edits to your Implementation Specialist. You should allow at least 2-4 business days to complete your edit requests unless a rush fee is paid.
To stay organized and make edits efficient, please stick to our Review Protocol:
Type all of your requested edits into the document provided in BLACK font

Clearly identify the action you'd like taken on the current question

Remove

- Remove any questions from the Health Profile completely

Reword

- Reword the question to be more clear

Add

- Add additional questions into the Health Profile

You may have multiple people review the Health Profile using the test account credentials. We ask that all requested edits be returned together typed into one, compiled document.
Our goal is to get your Health Profile exactly how you'd like it as quickly as possible, so please do your best to make your requests clear. All requests must be typed out, we cannot accept edit requests over the phone or handwritten.
---
Expirations
Returning organizations will go through the expiration process. The expiration process is used to determine what sections of the forms and questions you want to prepopulate and what needs to be re-completed for returning participants. By default, information from your returning participants will carry over from year to year. Expirations will only impact returning participants.
There are two different types of expirations you will review:
Review & Confirm - All answers will carry over from the previous year and the User will need to confirm it is all still correct or edit the information to make it accurate. We recommend setting

each step to Review & Confirm.

Question Expiration

- Previous year's answers will clear out completely and the User must completely reanswer the question. We suggest expiring questions that include the following:

Authorizations/Waivers

Seasonal Information (ie. Grade or Teacher)

Any question with a timeline (ie.

recent

or

within the past 12-months)