Manually adding each of your participants and their registration information to your account individually can be time-consuming. We are happy to import your registration and tag information so you don't have to!
Organizing your data so that it can be used efficiently is essential, and we know that for most, organizing giant sets of data can make your head spin. Not to worry, you don't need to have a master's degree in computational mathematics or be an Excel wizard to setup your account. In fact, it's extremely easy, and you can review the sections below to see best practices for sending us the data we need.
Oh, and if you ever get stuck, we love Excel and organizing data, so just contact us for help.

In this article:
---
Group Structure
The group structure is the foundation of your account. Each level allows for detailed filtering and reporting. A simple group structure may have only two columns, listing columns Season > Session for each program. A more complex group structure may have many columns, listing columns Season > Location > Session > Program for each program.
You can setup your group structure however you'd like, and can have as many different levels as you need. Your account manager is happy to make recommendations on how to set this up too.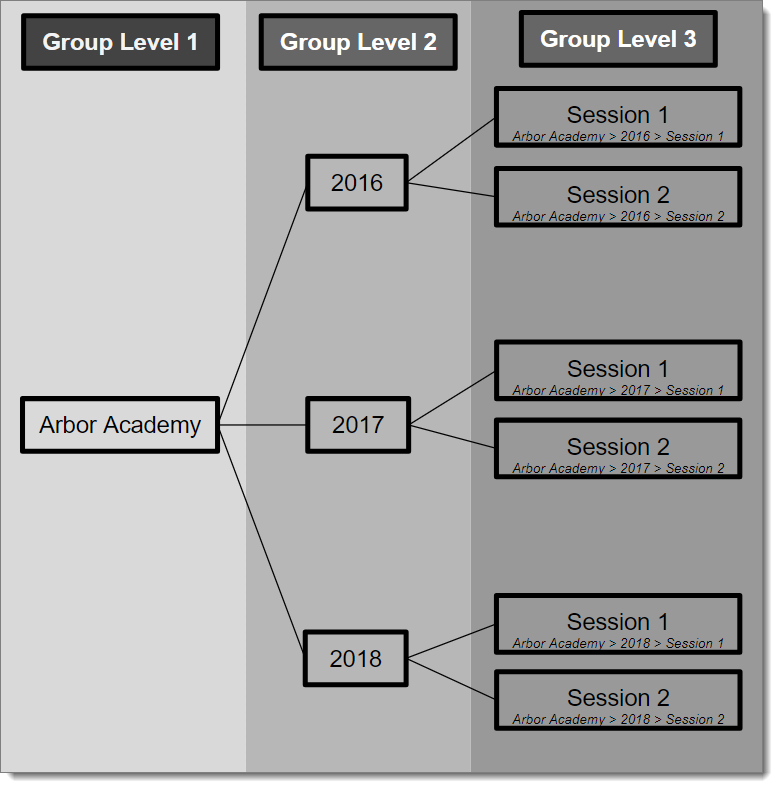 ---
Group Imports
When sending us the group structure for your organization, it must be formatted into a spreadsheet and sent to data@campdoc.com or data@schooldoc.com.
For every group import:
Each category must be in a separate column.
Each session/program must be in a separate row.
Each row must include the start, end, due, and lockout dates for that session/program.

I'm using a separate registration system, how can I easily export my data?
We like to keep things simple, and have some tips on how to make the export/import process as smooth as possible. We recommend exporting all of your participants and programs from your current system and using these fields to create your group spreadsheet. This way you can reduce the amount of manual edits to the export spreadsheet.
Can I add or remove columns from the template?
Yes, the group structure can be customized however you'd like. The template is just a starting point, so feel free to add or remove columns as needed. Just a heads up, we will always need start dates, end dates, and session names.
What if I don't have my cabins or room assignments yet?
No problem! We can import your data without this information, and then add cabins/room assignments when they are available.
---
Participant Imports
For organizations using their own registration system, we'll also need a list of your participants before we launch.
Please note, that if you have participants who will be attending multiple sessions/programs, please list them on separate rows within the spreadsheet. Also, it is important that the group fields match in both the groups and participant spreadsheets so our system can link each participant to the correct group.
Once a participant import is received, it is imported into your account and an automatic email will be sent to any email addresses attached to the participant.
For every participant import:
Each row must have a first name, last name, and date of birth for the participant. This helps ensure that duplicate profiles are not created.

Include a unique identifier if possible. This is a great way to help us match participants and eliminate the risk of duplicates.

Each registration must be listed in a separate row. If a participant is attending multiple sessions, the spreadsheet must list one row for each registration.

Each category must be listed in a separate column and session/program names on the group spreadsheet must match those listed on the participant spreadsheet.

Should I send a list of only the newest registrants or the entire master list to be imported?
It's totally up to you. If you send the entire master list for each import, our system will filter out duplicates based on unique ID or first, name last name and date of birth.
---
Import Templates
Please use these templates when creating your group structure and formatting your roster spreadsheets.
---
Import Policy
All imports should be submitted through the Data Imports tab in the application. Once imported by our data team, the provider will receive a confirmation email.
If an import is not correctly formatted, a variety of issues can arise compromising participant registrations and privacy. When the data team receives an incorrectly formatted spreadsheet, the import will not be complete and the data team will reach out to the organization directly.
If an organization is unable to submit properly formatted spreadsheets, they may be asked to sign a waiver.