In this article:
---
Add Line Items
To process charges or refunds for a participant, select the participant, navigate to the Account tab, and click on the Add Line Item button.
From here you will be able to process an electronic payment, refund, external payment, donation, or add a miscellaneous line item.
Payment. Charge a new payment method or saved payment method.


Refund. Initiate a refund to a saved payment method. 



Please note that once an electronic refund is processed back to a credit card or bank account, it may take up to 5-7 business days before it will appear on the card holder's account.


Refunds can only be processed if there is a saved payment method on file for the participant. If there is no payment method on file, refunds may be issued externally or you must reach out to the user directly to add their payment method into the system.



External Payment. Record cash or paper check payments you receive on your own, and that are not processed through our application.


Donation. Adds a donation charge to a participant's account.
 
Miscellaneous. Record extra positive or negative adjustments, like scholarships, that are not tracked by add-ons or coupons.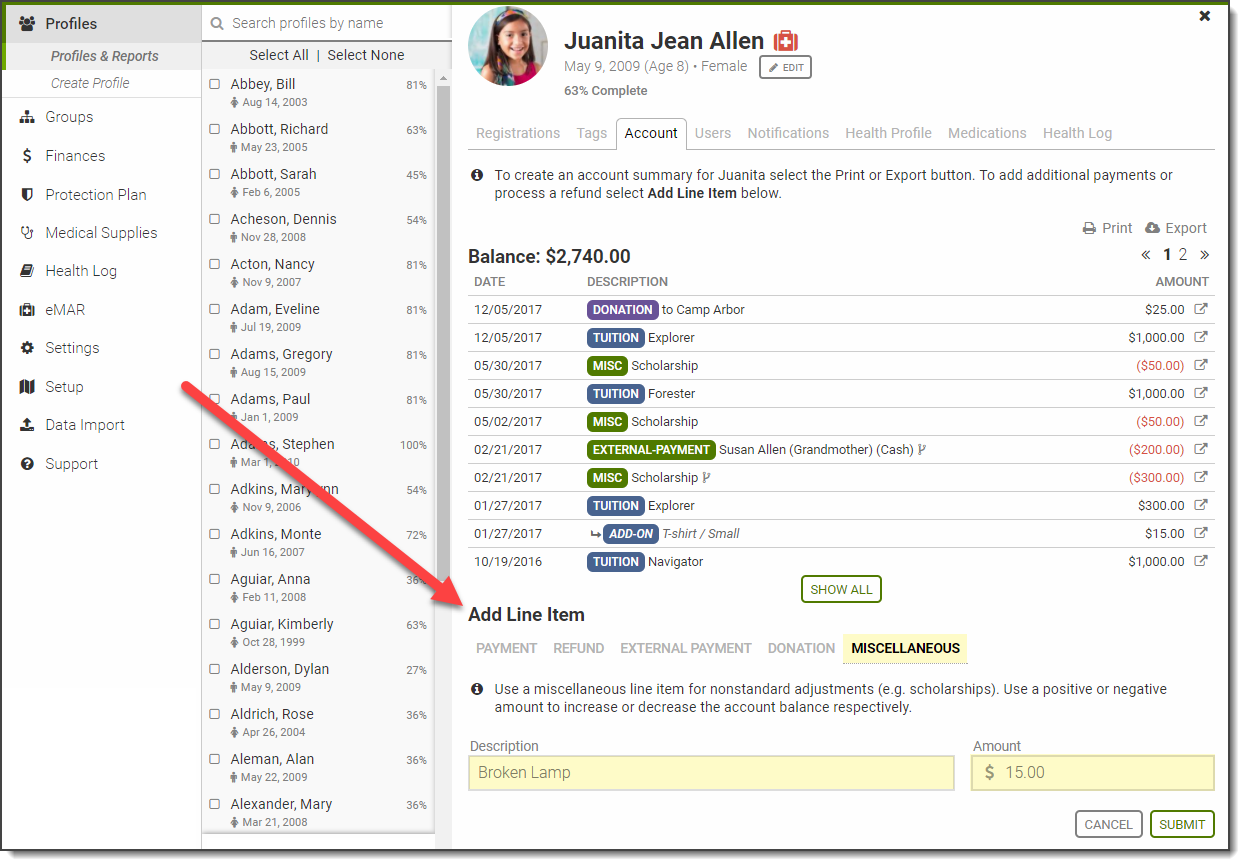 Line items within a ledger cannot be deleted. If a mistake is made, an adjustment line item must be added to correct the error, and a miscellaneous line item should be used.
---
Adjust Add-Ons and Coupons
To manually add or remove a coupon or add-on to a participant's account, select the participant and navigate to the Registrations tab.
Select the session that you want to adjust and click on the Edit Registration button. 
Finally, select the Add button or the Remove icon for the add-on or coupon you want to adjust.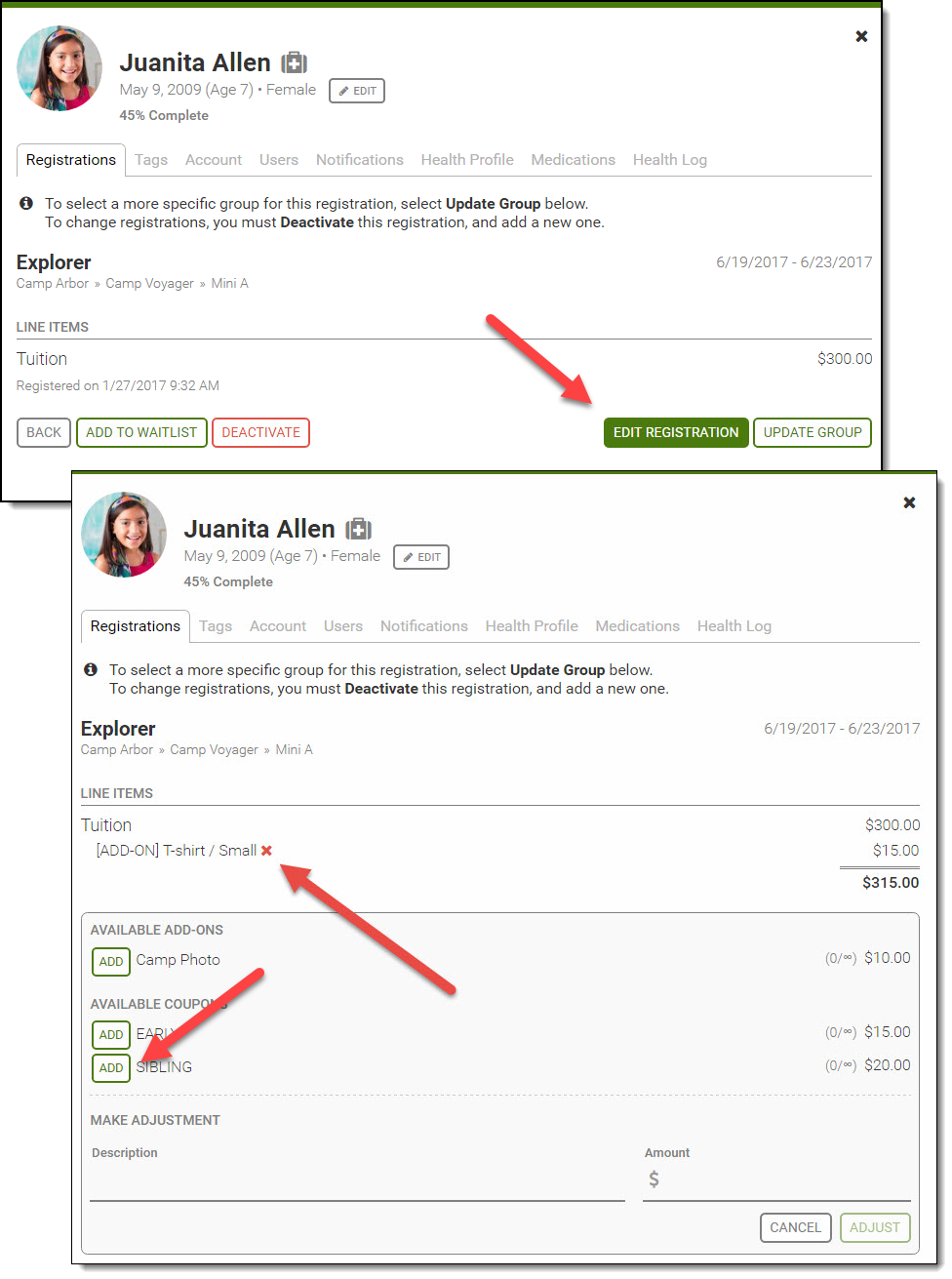 ---
Add Payment Method
A payment method must be linked to a specific user. To add a payment method on behalf of a family, navigate to the Users tab in the participant's profile.
Expand the users information and click the Add Payment Method button.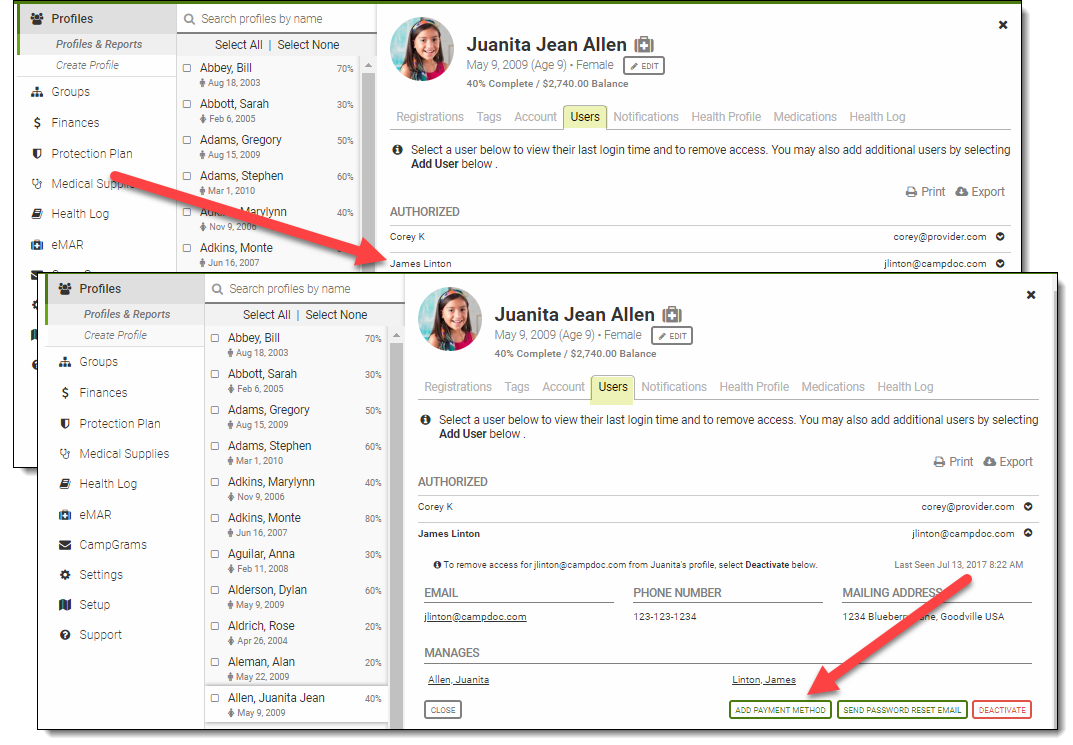 ---
Cancellation Fees
You have the ability to include a cancellation fee when deactivating registrations.
Navigate to the Registration tab for the profile requesting a cancellation.
Select the session and click the Deactivate Registration button.
Enter in a Cancellation Fee before clicking the Confirm Deactivation button.