This article walks you through uploading documents to your participant's Health Profile.
In this article:
---
File Requirements
Your organization may require you to submit documents that you may have to print, complete, and re-upload to your participant's Health Profile. Please follow the file requirements below to avoid any problems with uploading your documents:
File Size: 5MB or less
File Type: PDF, JPG, GIF, PNG
File must not be password protected
---
How to Upload Files
There are two ways to upload files to your participant's Health Profile:
Drag and Drop. If you are using the latest versions of Chrome or Firefox, you can simply drag-and-drop files directly from your computer into the Upload box. To upload additional files/pages, drag-and-drop the additional files into the Upload box.


Click and Browse. Click the Upload box, and then select the file that you want to upload. To upload additional files/pages, click the Upload box again, and select the additional files.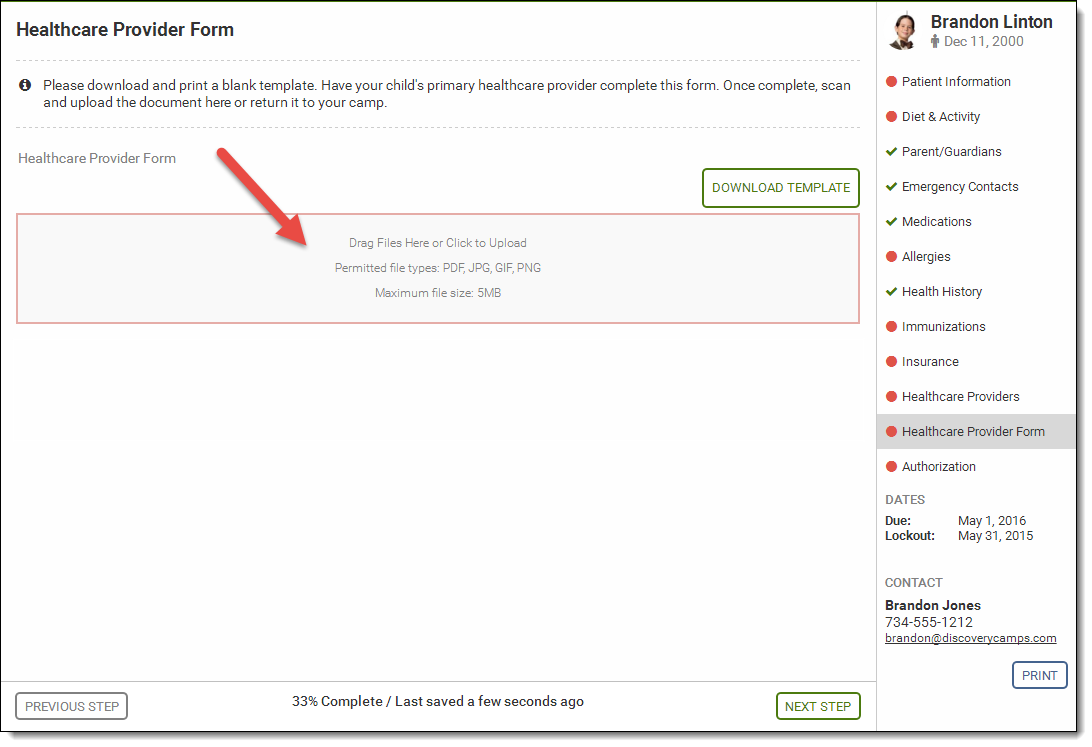 After you upload your file, it will appear in the grey Upload box alongside a green checkmark. You can upload multiple files if needed.

Note: Some uploads require a date to be entered in the Date box, such as the date of a medical exam. The Upload section will not be complete until a date is added.
---
FAQ
What if I don't have a scanner at home?
If you do not have a scanner at home, consider using a digital camera, tablet, or smartphone to save a picture of these documents and upload directly to the CampDoc or SchoolDoc from your device. There are also several free phone apps available that will scan images and convert them into a PDF format.
Alternatively, consider visiting your child's school, a local library, neighbor's house, or local office supply store to access a scanner. If none of the above are available options, please contact your organization for the option to return the documents by mail or fax. They may be able to scan and upload the documents into your CampDoc or SchoolDoc account on your behalf.