This articles walks you through completing and navigating your participant's Health Profile in your CampDoc or SchoolDoc account.
In this article:
---
Health Profile
Your health profile is a set of questions and forms required by your organization. Please note that your organization may call this by a different name (e.g., Camper Profile, Student Profile, Participant Profile).
To complete the Health profile:
Click the name of the participant you want to work on.

Click

Health Profile.
Important: Some organizations have a different name for their health forms (e.g., Application, Camper Profile, Student Profile).




In the right column, click the first step of the Health Profile.

Complete any fields in the step that are outlined in red.

On the lower-right side of the page, click the

NEXT STEP

button.

Repeat Steps 3-5 until all of the steps are complete.
Note: An incomplete step is represented by a red dot, and a complete step is represented by a green check mark.

---
Profile Complete
There is no submit button, and the information you enter saves as you type it. Once your account is 100% complete and all steps are marked with a green, you are all done. A pop-up window also appears, indicating that the profile is complete.

Please note, your organization may contact you if they have any questions about the information you provided.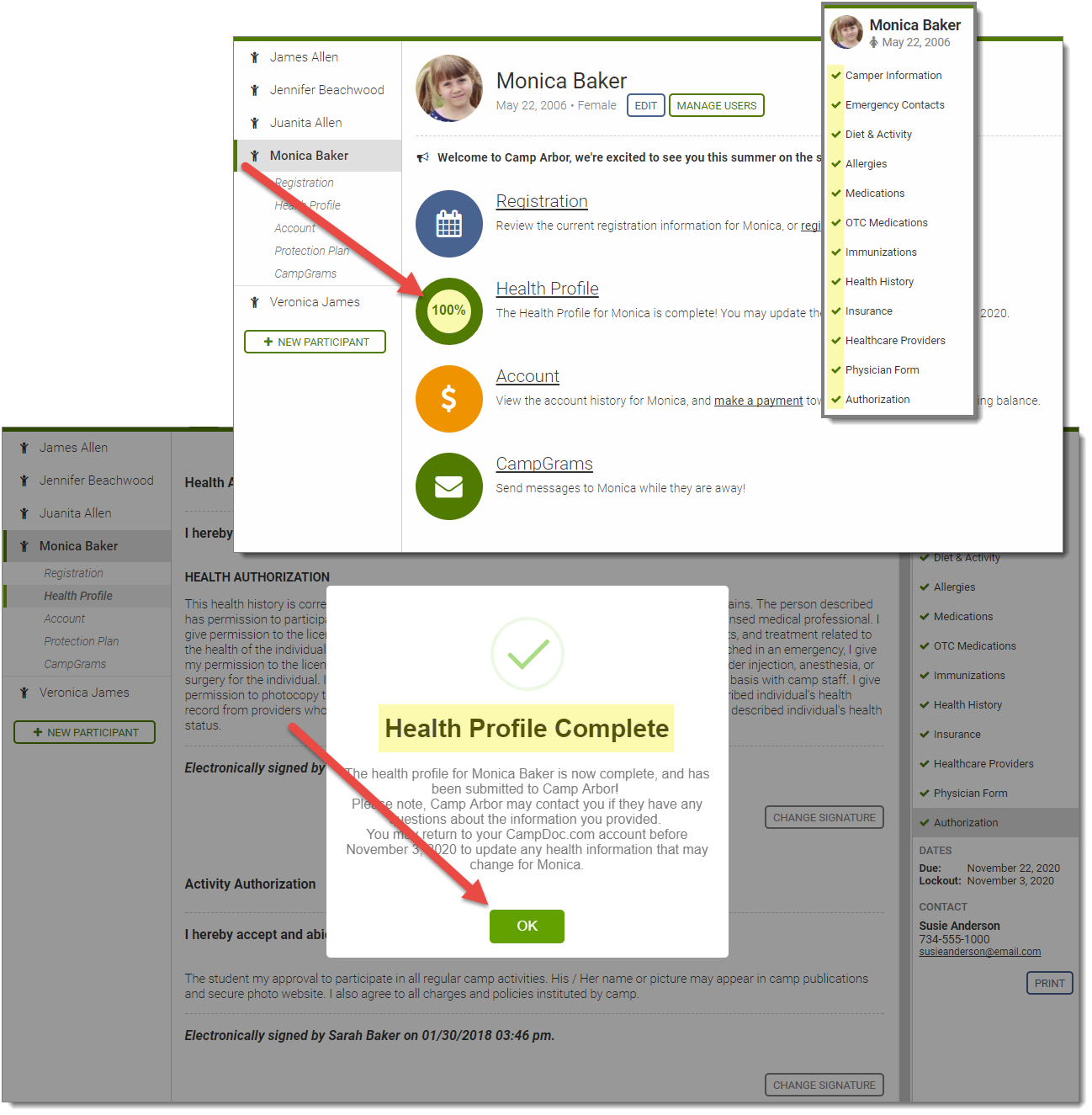 ---
Saved Information
If your account does not display data from last year, it may be due to a duplicate account, and you'll want to contact your organization for assistance. This may happen if your participant's name or date of birth is different from last year (e.g. Jon instead of Jonathan).
If your account has partial data missing, it may be the case that your organization has updated their forms. Some organizations decide to "clear" certain sections of the health profile to get the most accurate and up-to-date information from you, and sometimes they add new questions or steps for you to complete.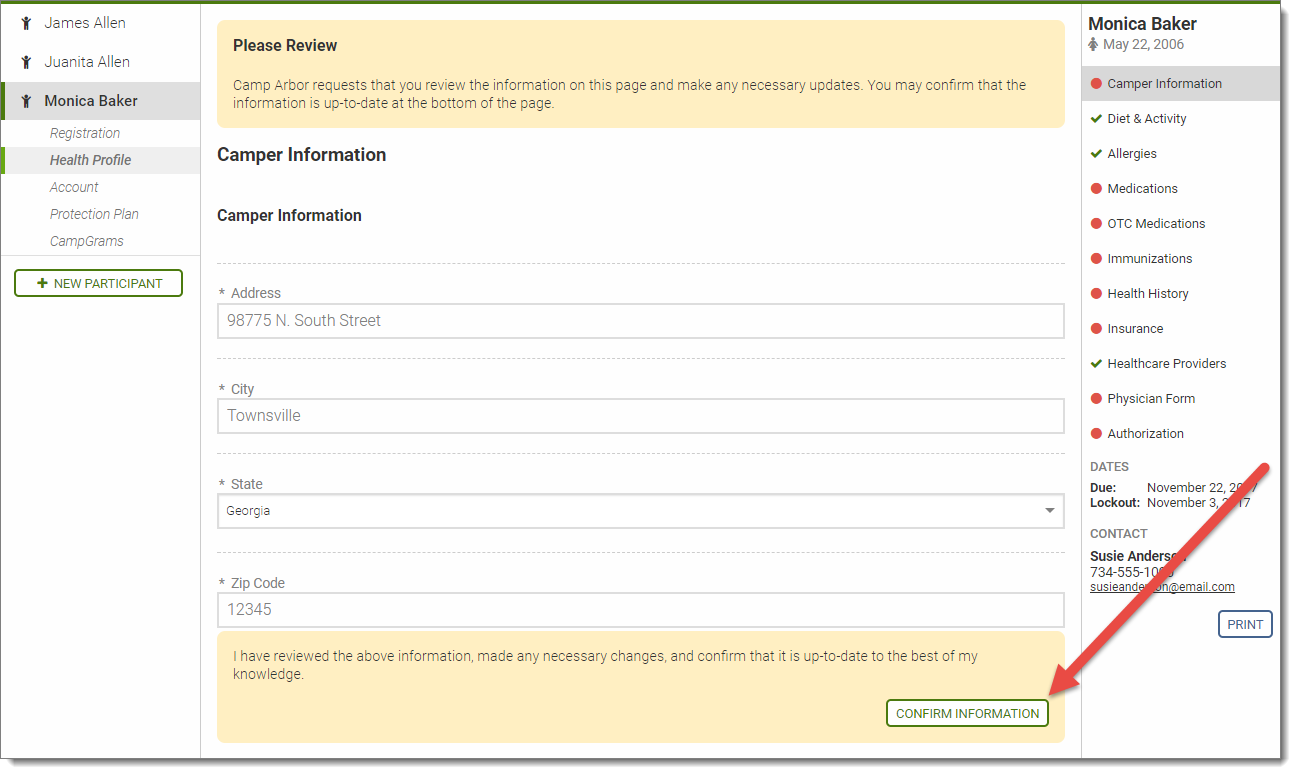 ---
Extension Request
Most organizations lock health profiles a few days before your participant arrives. This gives organizations the ability to print, review, and back up records prior to the start of the program.
Only profiles that are 100% complete will be locked, and profiles with missing information are never locked regardless of the lockout date.
If your account is locked but you need to make changes, you may submit an unlock request:
Click the name of the participant who you want to unlock.

Click

Health Profile

.

In the Locked Out window that appears, click the Request Extension

button.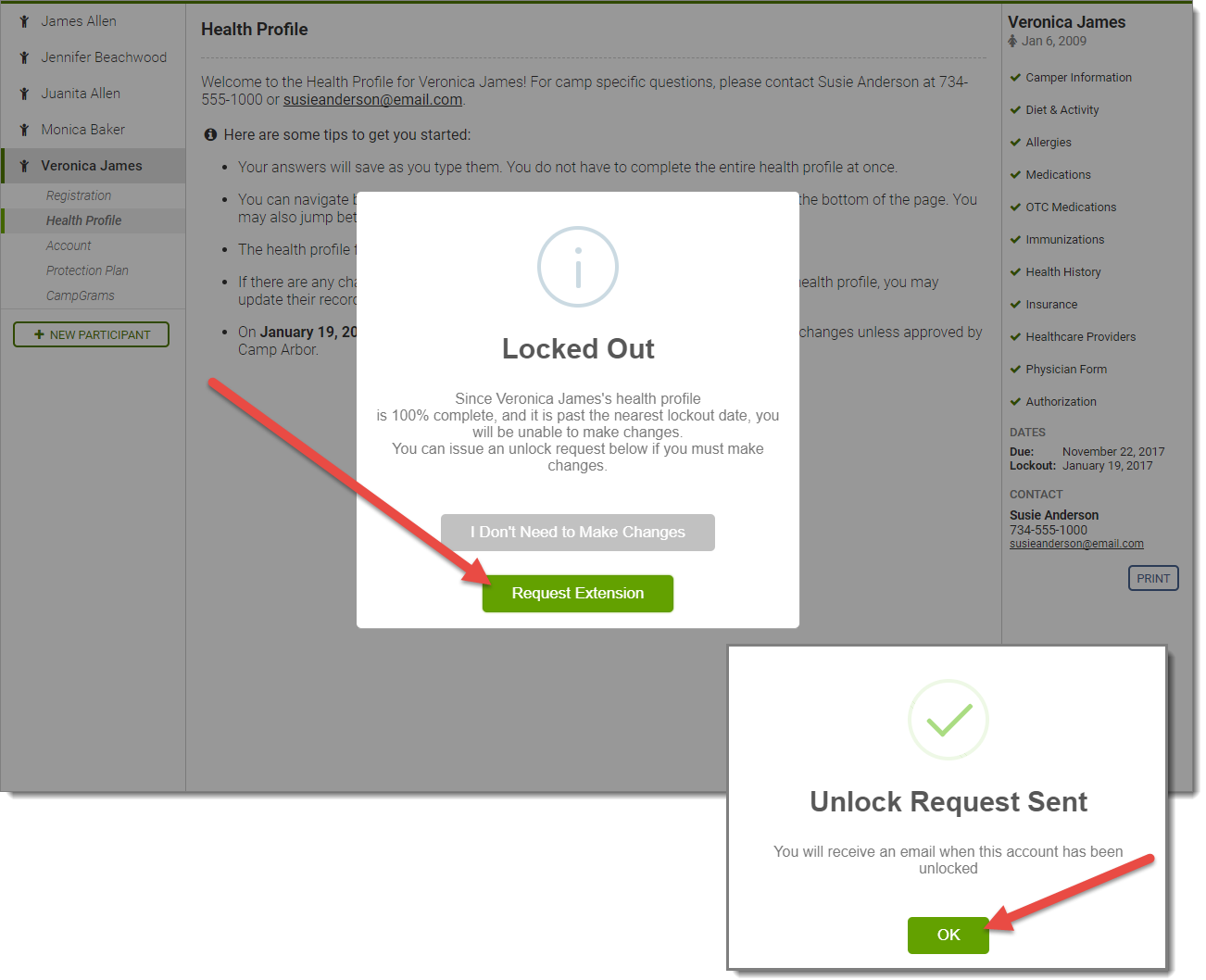 Your organization will be notified that you'd like your account unlocked to make changes. You will receive an email notification once your organization approves your request and your account is unlocked. If your extension request is not approved in a timely manner, please reach out to your organization directly.
FAQ
What if I cannot complete the health profile before the due date?
Sometimes a participant may have a doctor's appointment scheduled after the due date, or there may be other circumstances that prevent you from completing the health profile on time. Typically this is not a problem; however, if you are not able to complete the health profile before the due date please notify your organization right away. Every organization has different policies and requirements for completing health information and when they require health information to be completed. Our system is designed to send reminder emails until everything is complete, and you will have access to your health profile even after the due date has passed.
Can you stop sending me reminder emails?
Reminder emails are sent if your health profile has incomplete steps or questions, and will automatically stop once your health profile is complete. They are designed to make sure your organization has everything they need to keep your child healthy and safe. If you are not able to complete a specific section of your health profile, please contact your organization for further instructions.
How do electronic signatures work?
We use electronic signatures, so there is nothing for you to physically sign. Just enter your name and relationship, and click the Accept Authorization button. This will electronically sign and timestamp the authorization for you!