This article is only applicable if your organization is using online registration.
In this article:
---
Make Payment
To make additional payments, go to the Account tab, and click the Make a Payment or Donate button.

From here, select whether you would like to pay the Full Balance, Another Amount, or Make a Donation.
If you have a payment method saved, you can select it from the drop-down menu.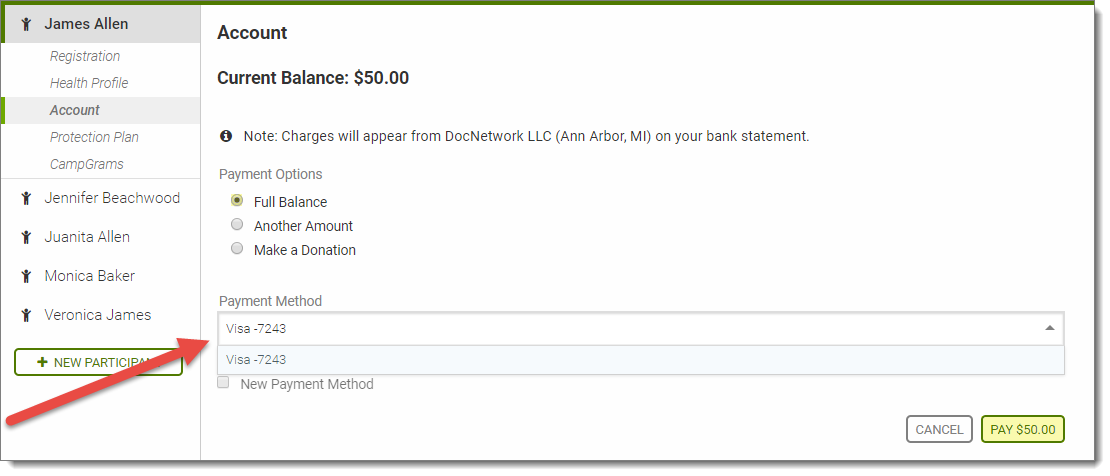 If you do not have a payment method saved, or would like to add a new payment method, select the New Method option from the drop-down menu and choose whether you would to add a Credit Card or Bank Account.
If paying with a bank account, please double check your account number and routing number. If numbers are entered incorrectly and a payment is attempted, you will incur a $35.00 returned check fee.
You will need to indicate whether your organization has permission to charge or set up payment plans on your behalf, and you will also need to enter your billing address.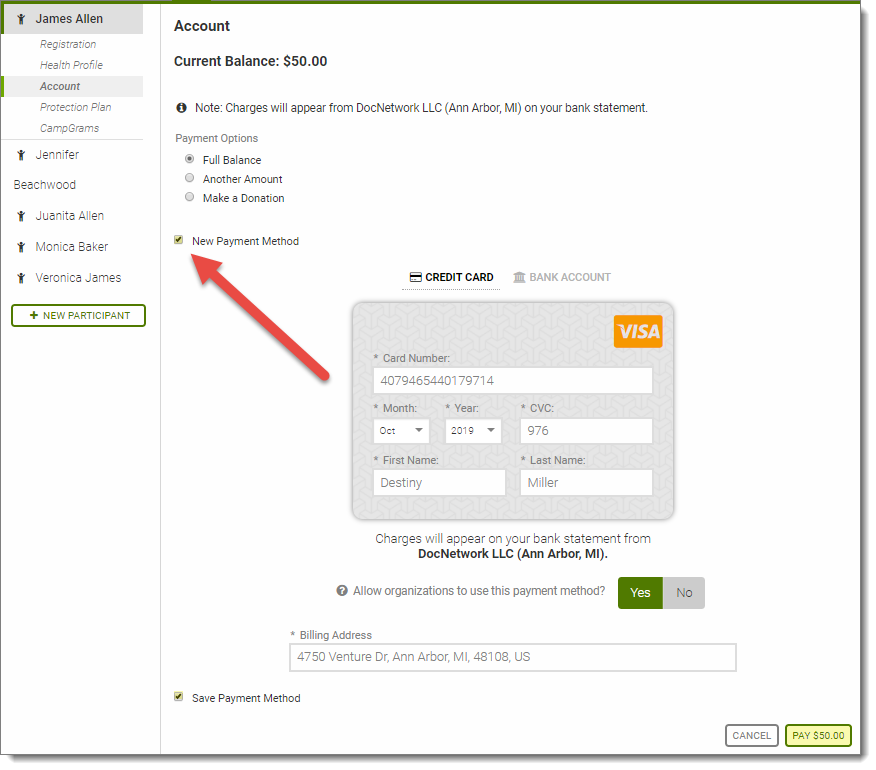 ---
Remove Payment Method
To remove a payment method, click on your name in the top-right corner of the page, and navigate to the Billing section, and select  next to the payment method.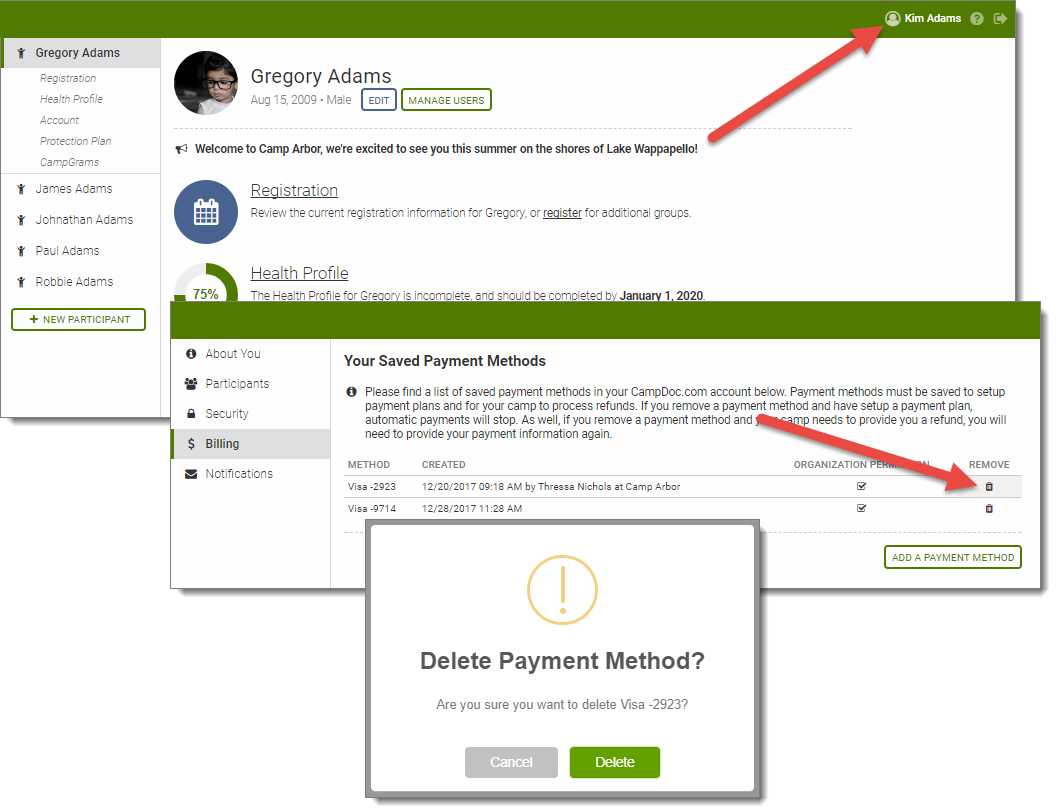 ---
Account History
To view your account history, navigate to the Account tab. From here you can view a list of your previous transactions and your account balance.
If you have questions or concerns about your registrations, account balance or cancellations, please contact your organization directly.

---
Payment Plans
To set up a payment plan, navigate to the Account tab and click the Setup a Payment Plan button. 
Select a saved payment method from the drop-down or add a new payment method. You will be able to select an amount, length of time, and day of the month for the payment plan to process.
Please note that your organization may have a due date set for all payments to be made.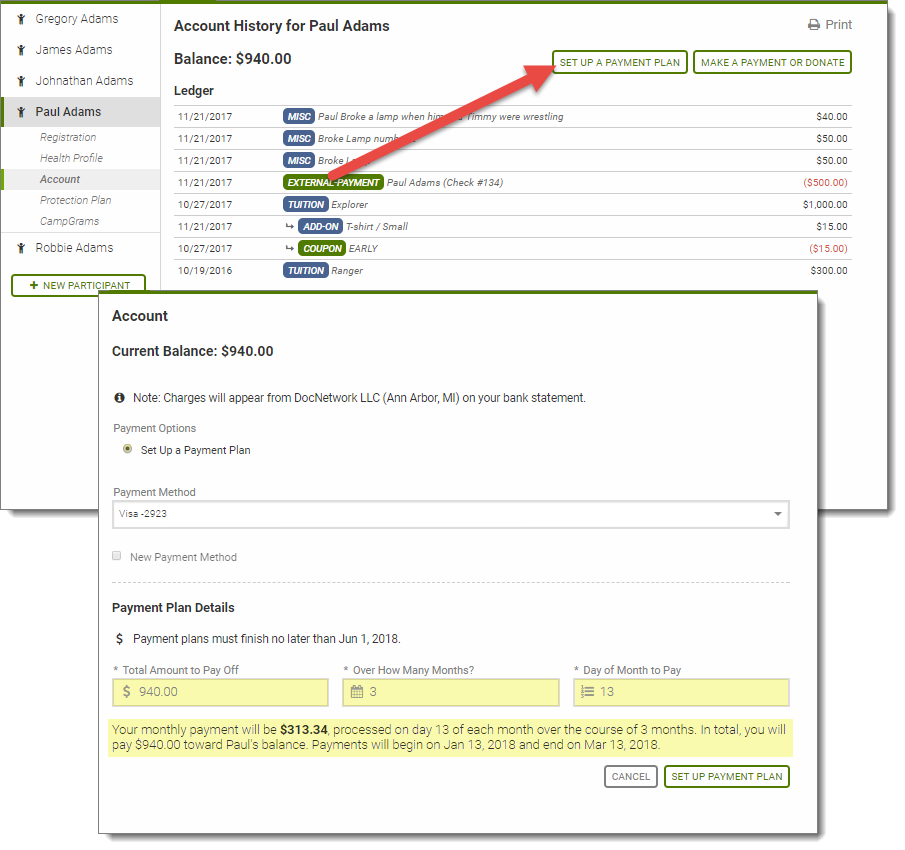 How do I change my current payment plan?
To change your current payment plan, you will need to cancel your current payment plan and then setup a new one.