We are thrilled to introduce our latest offering – customized training services! We understand that mastering a new system can be a journey, and we're here to make it as seamless and enjoyable as possible for you. Whether you're a seasoned pro or a newcomer to our platform, our training services are designed to empower you with the knowledge and skills you need. We do this by:
Personalization - Our expert trainers work with you to identify primary pain points and learning goals to craft a learning experience that is tailored to your schedule and needs, and guarantees that you receive the attention required to excel.
Real-time Interaction - Our training services give you the opportunity to get your questions answered in real-time, interact with other users, and gain valuable insights into maximizing your experience with CampDoc/SchoolDoc.
Interactive Learning - We believe in learning by doing. Our training services consist of interactive opportunities and hands-on learning activities with real-life scenarios to ensure that you not only understand the concepts but can apply them confidently.
Below you will find find a list of our current training offerings. Please note that the information presented serves as a guide. We will work with you to construct a unique learning experience for you and your team.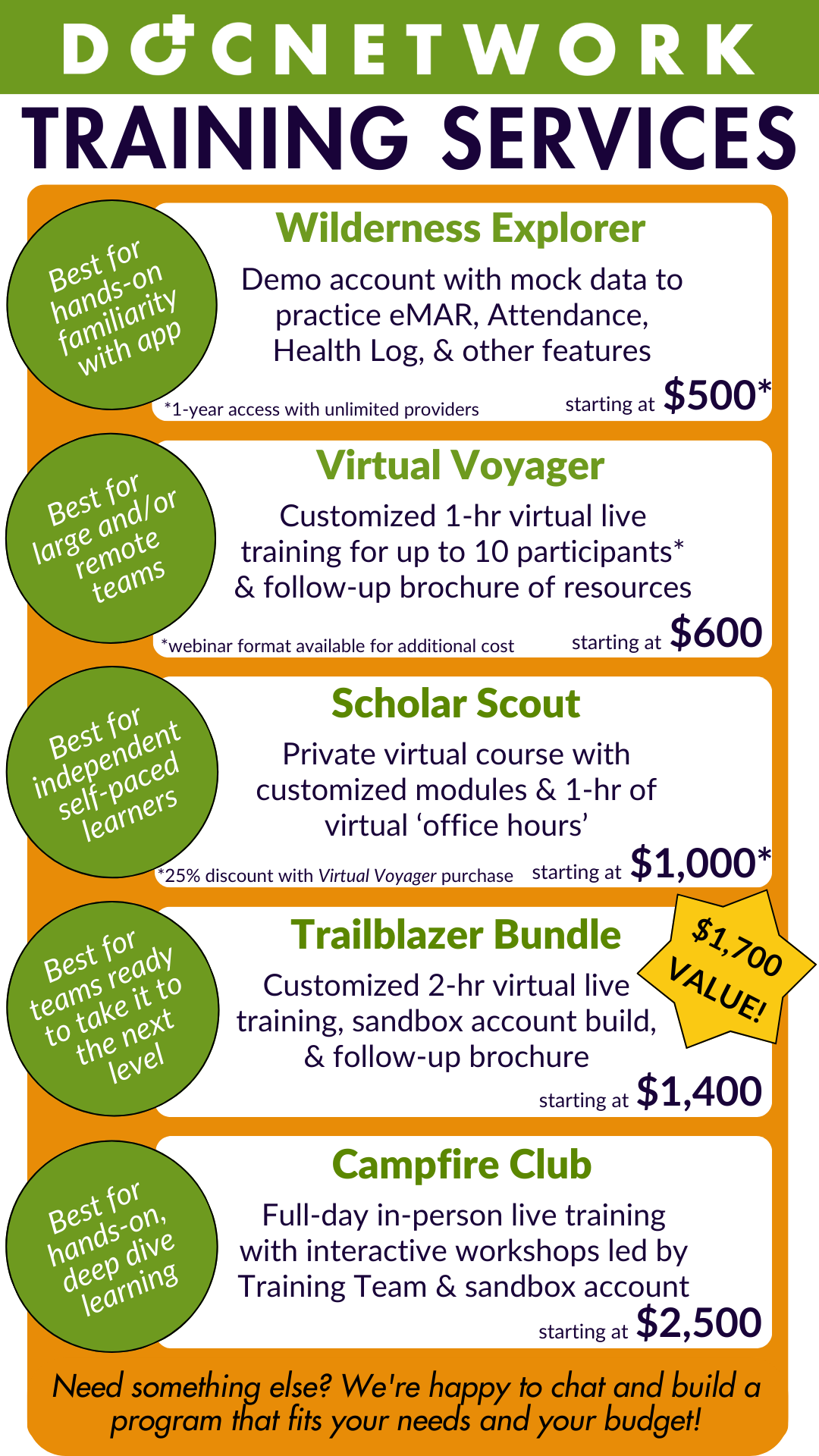 As you see from our visual above, our services are broken down into four main categories:
Live Virtual Training - Attend a customized training session for you and your team of providers in the comfort of your own home or office! We will craft an agenda tailored to your learning needs and send a follow-up brochure with a recap and curated resources for additional learning.
In-person Training - Bring our team to you for our most hands-on training option! Our expert trainers will lead you through a customized training complete with a practice 'sandbox' account, breakout sessions, and Q&A time for a deeper dive into the CampDoc/SchoolDoc application.
Online Courses - Private course with tailored modules for you and your team of providers to be completed at your leisure. Choose your pace, and let the learning begin.
Practice 'Sandbox' Account - Play around in a demo account stress-free! Featuring demo participants and real-life session data, your team of providers can access and practice with features such as eMAR, Health Log, and Attendance.
Not ready to commit to a customized training option? Don't worry! Our free resources aren't going anywhere. We encourage you to check out the rest of our Support Site to access all of our free educational materials, including our instructional articles, how-to videos, and toolkits.
Have we sparked your interest? If you are ready to start your learning journey, reach out to your Client Success Manager at accounts@docnetwork.org to set up a training consultation.
Thank you for choosing us. Let's make your experience with our platform exceptional together!
Interested in a downloadable and printable version of our Training Services above? Check out the Training Services Guide!