In this article:
---
Plan Details
As part of the registration process, you will have the option to purchase travel and emergency medical protection. The protection plan includes two major benefits:
Cancellation and Interruption. Prepaid deposits and non‐refundable travel arrangements can be covered in case of cancellation or interruption, sickness or injury, or in the event a parent loses their job.
Emergency Medical Expenses. Participants will also be eligible for first payer coverage with no deductibles for emergency medical expenses during international and domestic trips, in case of sickness, accidents, evacuation, and transportation home.
---
How to Purchase
You will have the option to purchase a protection plan as part of the registration process; if you declined the protection plan when you registered, you can still purchase it afterwards. 
To purchase a protection plan after registration, go to the Protection Plan tab, and click the checkbox next to the sessions you'd like to protect.
The tuition field will auto-populate with the amount of your sessions. You may increase or decrease coverage, by adjusting the tuition and transportation values. Your plan cost will adjust based on the total insured amount.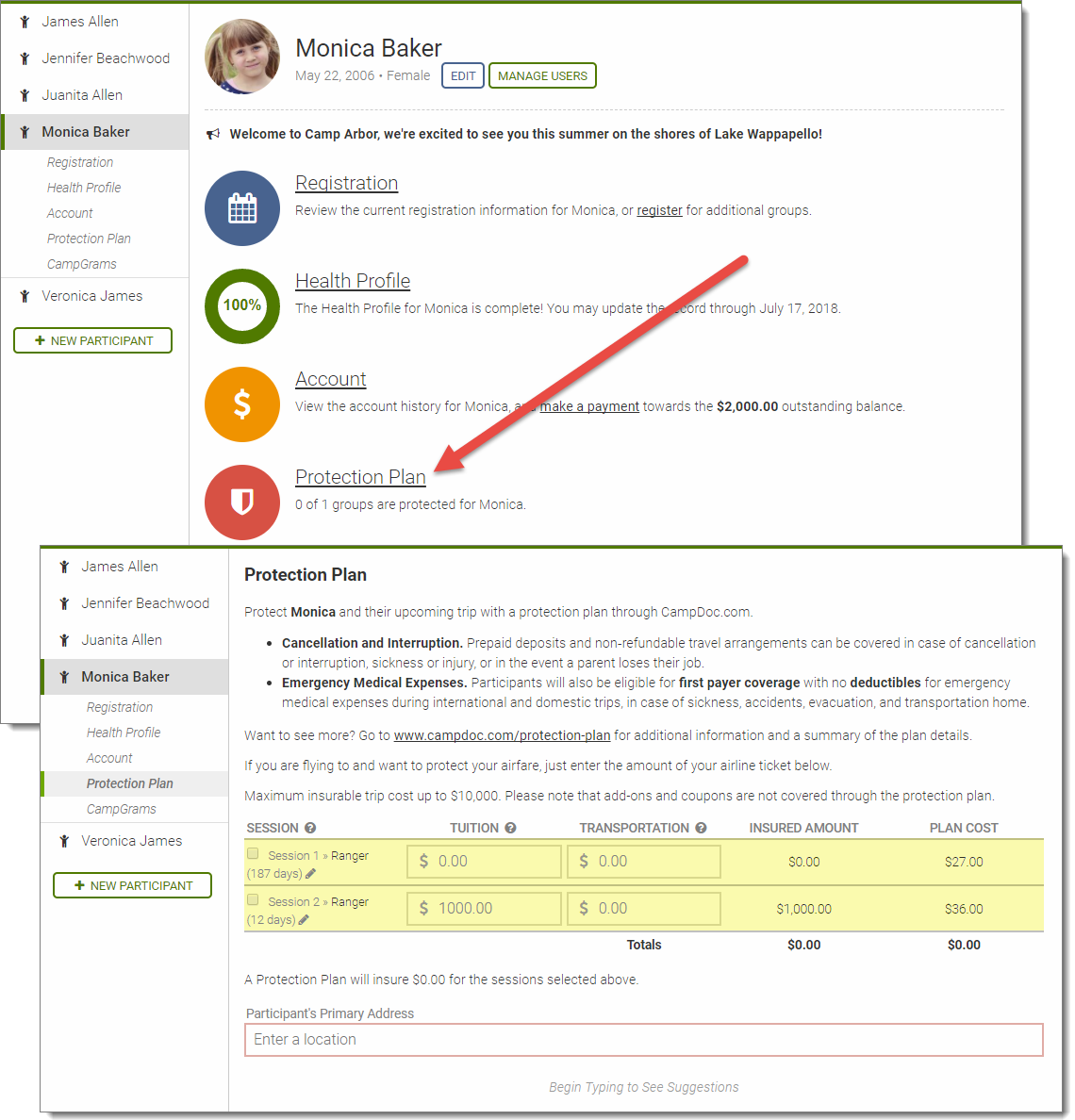 ---
Changes and Refunds
If you would like to make changes to your plan or you are not completely satisfied, you may make a change or request a refund within 10 days of purchase. Plans are non-changeable and non-refundable after 10 days of purchase.
When requesting a change or refund, please submit your request in writing, and make sure to include the following information:
Full Name
Date of Birth 
Organization Name
Dates of Travel
Tuition
---
Coverage Questions and Making a Claim
For questions regarding benefits and to make a claim, please contact Arch Insurance Solutions at 844-872-4165. 
Additional information can also be found at www.campdoc.com/protection-plan.